LHS

band sets sights on Dallas trip
The end of the year doesn't mean the end of work for Lansing High School's band boosters. They've staged four fund-raisers so far and have at least three more planned.
Though the boosters always work hard to help band students earn money, this school year it's especially important. In March, the varsity band, which is the marching band in the fall, will take its show on the road to Dallas.
The boosters plan to contribute about $15,000, booster president Sean Wooley said. The trip will cost $27,306.
First-year band director Deb Steiner had originally planned to take the band to San Antonio, but that fell through, and she decided to look into the Festivals of Music competition in Dallas instead.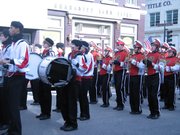 The band will leave on buses March 18 for Dallas. First, the band will perform as a concert band at the Meyerson Symphony Center, which is where the Dallas Symphony Orchestra plays.
The festival also includes a workshop with one of the judges and a judged marching band performance at the Texas Stadium, home of the Dallas Cowboys. The band plays last at Six Flags Over Texas theme park. Between competitions, the students will sightsee.
Robin Mosley, band booster treasurer, said the cost for the trip was $200 per student but booster fund-raisers could offset the cost. Each student has an individual account set up to cover costs for the Dallas trip, instrument parts and repairs and band equipment.
Two of the fund-raisers held were specifically for the Dallas trip: a Cherrydale fund-raiser and program advertisement sales. Cherrydale is a company that sells items like gift-wrapping paper and cookie dough for students to peddle and is a favorite fund-raiser for many schools. The program advertisement sale was an idea Steiner introduced this year.
Steiner said the ad sales generated more than $1,000. Students asked area companies to buy ad space in the winter concert programs: $10 for a basic listing and $25 for a full advertisement.
On Jan. 8, band students will hold a garage sale in the high school gym. Proceeds will go to the individual student from their own sales garage, Mosley said.
"Mostly we are hoping that everyone will want to get rid of old stuff after Christmas," Mosley said.
Earlier this year the band hosted its annual taco dinner, which Mosley said earned the boosters about $450. The band also runs a concession stand during basketball games, which last year earned them $3,500.
On the night of Winter Royalty, Jan. 14, the band will hold a spaghetti dinner in the high school commons.
Booster president Wooley said the boosters planned to make a donation right before the trip to cover any shortfall. Wooley estimated the band was about a third of the way to raising enough money for the trip total.