Lions roar into break with three straight wins
LHS

girls' confidence skyhigh
Lansing High girls' basketball didn't have to wait until this Saturday to celebrate its holiday cheer.
The Lions started the celebration last Friday night with a 53-41 victory over Mill Valley that wasn't nearly as close as the final score indicated.
The win was only part of the cause for celebration, however. The big picture is that they've won three straight games - all in dominating fashion - after getting crushed in their season-opener and then taking major strides in a four-point loss to Harrisonville.
They've come a long way in just a matter of weeks, so the Lions are having a good time.
"The intensity is good and the kids are having fun," LHS coach Keith Andrews said. "They're high-fiving and jumping around."
The excitement is justified. Just five games into this season the Lions are 3-2 and almost halfway to equaling last year's seven-win total. Even more impressive is the fact that the progress they've made in that short time has come in leaps and bounds. After playing sloppily and out-of-control during their season-opener, the Lions have shown patience and steady focus in their last four outings.
In addition, they've shown killer instinct as they've tried to put opponents away early. They've effectively executed their press defensively to create easy buckets, and they've been able to play the up-tempo offense Andrews has tried to implement.
"We want to run and we want to be fun to watch," he said. "I had several of the students come up to me and say, 'That was a great game, fun to watch.' That's what I want to have is where we're just boom, boom, boom. We're pounding the ball inside and we're running and pressing. Defense starts all that."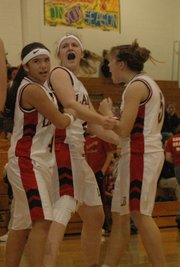 Andrews has identified a handful of keys to his squad's early success. He has complimented his players' eagerness to improve, commitment to the program and overall sense of unity.
The greatest asset, however, has been the leadership shown by seniors Melissa Casto, Emily Goodlin, Kendra Sickinger and Monique Richardson. Andrews said those four embraced their roles as leaders early on and helped the team pull through its early struggles.
"We have to think about being leaders and being role models of this team because we're seniors," said Richardson, who scored a game-high 14 points on 6-for-7 shooting against Mill Valley. "We've got a good younger group (to work with)."
Lansing's success has come because of the contributions of both its younger and older players. Goodlin and junior forward Amanda Radovich have held their own in the post as Goodlin has posted four games with double-digit rebounds and is averaging eight points per game. Meanwhile, Radovich has carried the load offensively with her team-leading 14.2 points per game.
Junior Rachel Darrow has been the Lions' top outside threat, while junior Nichole Twitchell, sophomore Riann Deere and freshmen Amanda Darrow, Morgan Chiles and Katie Nietzke all have made solid contributions.
Andrews said he is pleased overall with the progress his squad has made thus far, but said it still has work to do.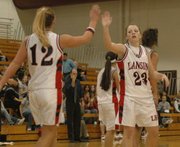 "Earlier I'd hoped for 4-1 (going into the break), but realistically 3-2, and that's where we're at," he said. "We had Harrisonville a good game we should've won, so really we've played well for four games. The bad thing is we've got a break now. We don't want to lose that momentum."
After taking a week off for the holidays, the Lions will return to practice next week to prepare for their Jan. 4 contest at Tonganoxie.
"I hope they welcome the break," Andrews said. "When we come back we're going to work pretty hard."