Soldier reflects on service in Iraq
It's been a crazy year. Only a couple of weeks ago was the first anniversary of my arrival in Iraq. I had gone from just leaving my technical training in November and arriving in Germany, then Kuwait and then Baghdad less than a month later. Nothing had really prepared me for the idea of going to war, and when my instructors had told me that within 30 days I would be there, I thought they were joking. They most definitely were not.
Even now, when I think back on it, Iraq was surreal. Someone once said that warfare consists of periods of extreme boredom punctuated by periods of absolute terror, and they really couldn't have been closer to the truth. Now don't get me wrong, I'm no infantryman. My job mainly consists of sitting behind a computer, but no matter what your job is, Iraq is dangerous.
I had a lot of trouble adjusting to Iraq. My unit worked 12 hours a day, six days a week, on noon-to-midnight or vice versa shifts and still had to do PT and take care of other stuff like vehicle maintenance and random details. And we worked light compared with a lot of people. Plus, even though I had been trained, I had to completely retrain to adjust to the types of work we were doing down-range (our common nickname for Iraq).
I didn't have a lot of stuff to do during the scant hours of free time we had when we weren't sleeping. Stress was high, and everyone has to find some way to relieve it. Mine was mostly through corresponding to my friends and family back home. I worked at the division headquarters for 1st Armored Division, so I was lucky. We were always in a place that had phones, Internet and snail mail right on hand. Most of our troops out in the line units didn't have those luxuries. So for the parents of combat arms troops who may be reading this, your loved ones may not always be able to call or write you back, but when they get communication from home, it is greatly appreciated.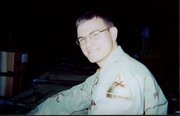 While mail and e-mail were easy to work with, one thing that always annoyed me was the phone system in Iraq. I think I spent upwards of $500 on phone cards. This may come as a shock to many people, but even though the only people using phone cards from normal landline phones in Iraq are Americans and American companies are managing the phone system there, the unit to minute ratio on a phone card is 10 to 1. I used to buy 550-minute phone cards and, once the call got from Iraq to the United States, I had around 55 minutes to talk. I never really understood why those companies couldn't bite the bullet and lose some money so that the troops wouldn't have to spend a fortune on phone cards.
I told my parents about the problem while I was down there and they sent me some phone cards. But still 100-minute phone cards only translate to 10-minute calls. If I could give any advice to families of soldiers, it would be to send phone cards but also to write whenever they have the chance. Not every base has Internet or phones, but they all get mail - and if the soldiers are anything like me, I know that they will find their lives made much easier by hearing from home.
I wish all the soldiers in Iraq a Merry Christmas, and I hope they stay safe over the holidays. To the families of soldiers in Iraq, I hope that you are able to keep in touch with them while they are away and remember that while they are away for Christmas, they would love to hear from home.
U.S. Army Pfc. Thomas William Trinkle, a signals intelligence analyst, is on leave in Lansing. He is based in Germany after deployment to Iraq. He graduated from Lansing High School as a member of the Class of 2000.