The rise of Logan Ryan
How one week of offseason training changed everything for
LHS

wrestler
When Logan Ryan looks back at his sophomore season as a Lansing High varsity wrestler, he calls it a learning experience.
He also calls it difficult and frustrating.
Simply put, Ryan's season didn't go as well as he'd planned. He competed at 275 pounds - giving up more than 50 pounds in weight to many of his larger, stronger opponents - and he frequently took a licking.
"It was just something to learn from," he said. "That's pretty much all that last season was. (I learned that I) needed to get stronger and get better."
Ryan went 0-2 at regionals and ended his season with a varsity record he described as "lost a lot. Barely won any. Not very good."
Frustrated with the way his season went, Ryan decided to come to the wrestling room every day the following week and help his teammates prepare for the state meet.
"I really wanted state that year, but it didn't work out," he said. "So I just decided to come in, work harder, get better. I had nothing else to do. I really started to work that week when they were practicing for state. I just came out to do something, to get better at something, just to spend time doing something."
Those five afternoons may have been the best time Ryan ever spent as an athlete because that's when his life as a wrestler changed forever.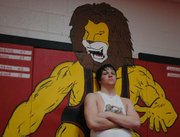 The big, soft, timid guy suddenly disappeared and an aggressive animal, a true competitor, emerged. The old Ryan became an afterthought overnight.
"He wrestled tougher that week than he had the whole season," LHS coach Ron Averill said. "At the time we made the comment, 'Why didn't you wrestle like this during the season?' Well, this season he is."
So far this season, Ryan, now a junior, has been one of Lansing's hardest, most determined workers every day in practice. He has lost weight and is in better shape than a year ago. Now he's competing each week with teammate Brett Wessell for the right to compete at 215 pounds.
Ryan and Wessell have a weekly wrestle-off for the 215-pound spot, and Ryan leads so far, 2-1. Through three varsity meets, he has earned a 4-1 record at 215 pounds and a 3-3 mark at 275 pounds.
Numerous teammates have commented on Ryan's steady improvement and constant focus.
"He's got a lot more confidence to him," said sophomore Kyle Grape, who placed fourth at state last year. "He knows what he wants, and he's going to get it."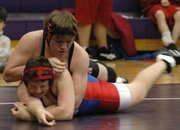 What Ryan wants this year is a state berth, plain and simple. Nothing less will be acceptable to him.
"My main goal is to get to state this year - to get there and do well," he said. "Coming into this year I knew I was going to state. I told myself I was going to state."
He seems on track to meet that goal so far. His record is solid, and he is well aware of his strengths and weaknesses. He's hard to stop when he gets on top of an opponent because he is strong and deceptively quick. He knows his shots, but his moves from a neutral position need to improve. He's working each day to improve in those areas.
Ryan will get his shot at state at either 215 or 275. Regardless of the weight class, Averill said Ryan is one of numerous Lions he expects to be taking to Wichita for the state meet in late February.
"He's come up and he's matured with his attitude. He's stepping up to compete," Averill said. "I definitely expect him to be sniffing out that state berth."