Three Lansing students nominated to military academies
Joey Sebes has always wanted to be a sailor.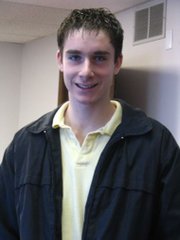 "Unlike a lot of little kids who want to be baseball players, I've always wanted to be in the Navy," said Sebes, a Lansing High School senior.
Sebes, along with two other Lansing residents, may see his dream realized, and soon. Rep. Jim Ryun, R-Kan., has nominated Sebes and Leavenworth High School seniors Scott Schultz and James Griffith to military academies.
Sebes, the future seafarer, was nominated to the U.S. Merchant Marine Academy, Schultz to the U.S. Military Academy and Griffith to the U.S. Air Force Academy.
While Sebes and Griffith are the top contenders for acceptance from Kansas to the academies, they won't know their status for sure until early 2005. Schultz already has been accepted to West Point. He received a presidential nomination and others from Sen. Sam Brownback, R-Kan., and Sen. Pat Roberts, R-Kan., before also receiving a nomination from Ryun.
"The more nominations, the better your chances," Schultz said. "I did everything early, so I got in there early."
Interested students must apply for every nomination and, if selected as the primary choice, submit their application materials to the military academies.
"Once you get nominated, then you're up for acceptance, but you have to go before the acceptance board. They review your file, you as a person, your test scores, how you've done at school, physically, extracurricular activities," Schultz said.
He will report to West Point on June 28 and remain a student until 2009. During the school year, Schultz will pursue academics. During the summer, he'll be in military training. Upon graduation, Schultz said he should be commissioned as a second lieutenant in the U.S. Army.
For Schultz, gaining acceptance to West Point is the culmination of a lifelong pursuit. Both his father and grandfather were in the Army, which influenced Schultz's choice of career.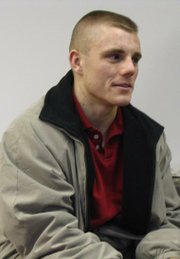 "I'd say I was born and then I wanted to go," he said. "I really just want to become an Army officer. I don't have plans beyond that."
All three young men aspire to military careers. Like Schultz, Sebes plans to continue in his field of study, but in the Coast Guard, and Griffith, in the Air Force.
"I've been swayed to the Coast Guard," Sebes said. "Last year I went to an internship with the Navy at Fort Leavenworth. I talked to them about what they did in the Navy, and I talked to them about the Coast Guard also. I learned that the Coast Guard is a smaller group and more tight-knit. You're not going out with several thousand guys on an aircraft carrier, you're going out with maybe 70."
Sebes said when he was younger he would visit his grandmother in North Carolina and watch the Coast Guard boats off the coast.
"I've always loved going out boating," he said. "I've been an adventurous type of person my whole life."
He's also a high achiever. Sebes is president of the LHS Kays, a nominee for Homecoming King, a varsity soccer player, varsity golf team member, volunteer for Leadership Council activities, and group leader for the school's video production staff.
Sebes' favorite subject is physics, which he says he loves for its practical applications.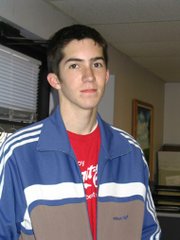 "I really like physics, even though it's kicking my butt," he said. "It's all related to everything in our daily lives. It's something you can apply."
Griffith also is interested in education he can apply. He's been looking into the U.S. Air Force Academy since his freshman year of high school because it will help him learn to be a pilot, a goal he's had since a very young age.
The structured nature of the Air Force Academy appeals to Griffith, who says an ordered regimen fits his lifestyle. If Griffith is accepted, he will begin school July 1.
He hopes to gain education and life experiences that will make him a better person, Griffith said of his reasons for applying.
At Leavenworth High School, Griffith is involved in drama, cross country, tennis, National Honor Society, student council and the Celtic Society, a club celebrating Irish heritage.
All three plan to spend the holidays with family. Sebes and Griffith are staying in the Lansing area and Schultz is visiting relatives in Oklahoma.