Backstage, student technician shines
Lansing — Tanner Couvelha discovered his calling in kindergarten.
The Lansing High School senior, now the district's main theater technician, began his production career by carrying small props and holding back the curtain.
"I was the little kid who couldn't sing and couldn't act well," Couvelha said. "So I got to help out with the play."
Tanner, the son of Lansing residents David and Arlene Couvelha, continued helping out backstage through elementary school, his tasks becoming increasingly complicated. He moved on from curtain-holding to basic lighting and sound.
When he got to middle school, the school district was in the process of installing new theater lighting.
"No one really knew how to run the lighting because it was new to everyone," Couvelha said.
As the resident theater tech, Couvelha was asked to help figure things out. While Couvelha read through the lighting board manual that time, in general he prefers a more hands-on kind of way of learning behind the curtain.
"Occasionally, if I get bored, I'll read a book on the stuff, but not that often," Couvelha said. "Most things are trial and error. (In middle school) I just kind of winged it, and after a while I just started picking up on things."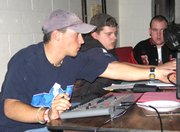 Eventually he gained a reputation for being the person to ask when putting together a show. The high school Swing Choir asked him to help light and produce its February concert. The Leadership Council found out about Couvelha and approached him about working on a talent show. Then the Kayettes needed help staging a fashion show. Couvelha accommodated them all, and the activities have continued to benefit from his aid.
"He's just a terrific kid," said forensics coach and Drama Club sponsor Ken Church. "You name it, he tries to help. He's a real problem solver. We compare him to MacGyver. He's the guy we call to figure things out if there's a problem."
Couvelha estimates he spends from 10 to 12 hours a week doing technical theater work during the last week or two before shows open, a period of time referred to as technical rehearsal. Because of a short schedule on the last drama club play, "Lost in Yonkers," Couvelha said he and his crew worked on set pieces and lighting and sound for four to five hours every day after school.
But Couvelha's work begins much earlier than technical rehearsals. Theater crew members usually go to drama auditions to get a feel for the play, in addition to reading the script, attending rehearsals and putting in weekend hours to make sure sets are built.
Once drama club rehearsals begin in earnest, Couvelha is responsible for getting the set built, setting lights and blocking, in addition to working to make the sound equipment run smoothly.
"He's very dependable," Church said. "If he says he's going to be there, he's there. We've spent many a Saturday working."
During shows, Couvelha is backstage moving set pieces, running lights and sound, "wherever people need help," he said.
Last summer, the seasoned techie helped at Kansas City area community theater productions and in area churches for productions using specialized audio equipment.
And Couvelha does more than just drama and theater. He's an active Boy Scout, attending a camp near Bonner Springs in the summer for close to 12 weeks, in addition to working with the Boy Scout Order of the Arrow. Couvelha also is a debate and forensics team member. He's involved in the high school's leadership media class and helps to put on a news show every week.
But the activity he focuses the majority of his attention on is theater.
"I excel at it," Couvelha said. "There aren't a whole lot of other people at the school who know a lot about it, so I can be in my own world. I don't have a lot of people telling me, 'No, you're wrong.'"
That hardworking, independent attitude has furthered Couvelha's interest in technical theater and helped the district with its shows and productions. Since kindergarten, Couvelha has been one of the school district's consistent theater aids. Couvelha isn't sure what will happen next year, either in Lansing or in his life. He is trying to decide between a career in engineering and one in technical theater.
Church wishes him the best of luck, sure he will succeed, though the situation in the district without him may not be an easy one.
"I'm really going to miss him a lot," Church said. "I doubt if I'll do anything really flashy set-wise for a few years."
Couvelha said he'd tried to train people, but those who were interested in the past haven't always followed through.
He's optimistic about the current freshman class, though, saying there were several interested students. But just in case next year things don't work out : Couvelha, smiling wryly, said, "People have my cell phone number."