Booster T-shirts prove popular
It was no coincidence that dozens of students were wearing the same clothes Dec. 17 when Lansing High School played host to Mill Valley in basketball just before the start of the semester break.
The game marked the debut of this year's Lions basketball T-shirt. The shirt was designed by senior Yale Averill, whose entry in a Lansing Middle and High School Booster Club contest was selected as the winner.
This marked the second year for the Booster Club's giveaway of the shirts, which has proven popular with the students.
To make this year's event run more smoothly, the Booster Club made the distribution process more organized.
"We didn't want the mob attacking us," Booster club member Robin Dorf explained.
Booster club members made sure those receiving the T-shirts were high school students. After students received their shirt, their hands were stamped to make sure each student received only one shirt.
More students received shirts this year because of the new system, Dorf said. Students were cooperative and understanding of the new process, she said.
Booster Club sees the event as a success because of its promotion of spirit within the student body. The design, Dorf said, was a hit with everyone.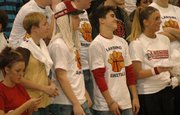 Ceal's T-shirts and Designs printed 150 T-shirts of Averill's design. Ceal's sold the shirts at cost to the Booster Club, which also paid for the printing costs.
Dorf said she ran out of medium T-shirts first and had about 12 shirts left over in X-large and XX-large.
"It's hard to guess sizes," Dorf said.
Booster Club will have a similar T-shirt giveaway next month at Lansing Middle School. Middle School students will have the opportunity to design their own T-shirt.