City's efforts in 2004 point to future
Looking back at 2004, it's easy to see how busy Lansing's city leaders have been.
The City Council pushed through an annexation plan that added 1,300 acres to the city, opened a new city park, approved the purchase of land for another park and helped convince state transportation officials that Kansas Highway 7 needs to be a freeway from Lansing all the way to Olathe.
And all of that took place just in the past two months.
When Mayor Ken Bernard looks back at 2004, which was his 21st either as mayor or as a council member, he sees several key actions taken by the city.
"Probably the major ones are the continued orderly growth of the city, the annexation - that was important to the city's growth - the near completion of the wastewater treatment plant expansion, work on the commercial area and the opening of buildings in the industrial parks down south," he said this week.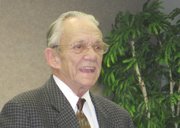 All of the accomplishments are positioning Lansing for the future, Bernard said, and he'd like to keep the momentum going.
High on his agenda for 2005 is convincing voters in Lansing and throughout Leavenworth County to renew a one-cent countywide sales tax. Part of the money collected for the tax goes back to each of the county's cities, and Lansing uses its share for a number of purposes.
The tax is set to expire in 2006, and voters will be asked in April to renew the tax.
"It's important that we renew that so we can continue to move forward," Bernard said.
The city already has earmarked its priorities for how money from the tax would be spent if voters renew it. On the list are: an expansion of City Hall; expansion of Gilman Road to De Soto Road; widening of De Soto Road from Ida Street to Eisenhower Road; work on the southern end of De Soto Road in the city; work on a new sports complex; and economic development efforts.
Bernard is also hopeful the city can generate additional sales taxes through development of the city's Town Centre on Main Street between Mary Street and 4-H Road. Though no businesses have been announced for the commercial development that is designed to reintroduce a downtown to Lansing, Bernard said he expected the city's residents would be hearing good news soon.
"I think they can expect a lot of things being announced in the spring," he said.
The mayor also has his eyes on expanding industry in the city, hoping more businesses soon will be locating in the two privately operated industrial parks on Lansing's south side.
"There's a lot of movement out there," he said, noting, "We have to diversify the tax base."