Fifth-graders form bond with classroom aide
Lansing Intermediate School fifth-grade teacher Pam Jackson knows what it must have felt like to be the quarterback of the Lansing High football team.
She and quarterback Matt Warner both are used to handing things off to Jeff Slater, the football team's leading rusher and basketball team's go-to forward.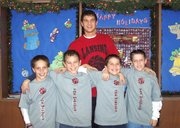 Much like many LHS students, Slater, a Lansing junior, works as an aide in Jackson's classroom and has served as a mentor to many of her students. Four in particular are big-time Slater fans, Jackson said.
Those students - Heath Johnson, Dan VanSchoelandt, Jalen Maestas and Justin Lozenski - really look up to Slater, Jackson said, and view him as a role model and a leader. In fact, Slater made such an impact on the group that the boys made T-shirts to show their support for him at Lansing's basketball games this winter. The shirts have a basketball and the words "The Midgets" on the front and "Slater 44" on the back, representing his jersey number.
"Of course the boys love him to death because of the football and basketball and all of that," Jackson said, "but Jeff does a wonderful job with those kids. He does extra things. He's very interested in them being successful in school, and he uses his power as an athlete to motivate them to do well."
Slater grades papers, helps students with their math homework and does anything necessary to help out around the classroom, Jackson said. She said Slater took the students' classroom success personally.
"He's very concerned about them," she said. "He'll come in and remember one of them had a test the day before, and if they didn't do well he's really disappointed. His mom (LHS volleyball coach Julie Slater) says he wants to teach and coach, and that might be a good fit. He's got a real gift for the kids."