Fire department loses one of its own
Volunteer killed in the line of duty
Firefighters from the Fairmount Township Fire Department lowered a flag to half-staff and draped a black banner from the fire station Wednesday after a comrade died in the line of duty earlier that morning.
Jared Moore, a 19-year-old Fairmount Township firefighter, died from injuries sustained in a two-car accident at 155th Street and Donahoo Road. He is thought to be the first Fairmount Township firefighter in nearly 30 years to die while on duty.

"He was a really nice young man," said Mark Linville, Fairmount Township public information officer. "Really, firefighting was his number one thing. He really loved it. It was just something he really wanted to do . . . Unfortunately, he didn't get to do it very long."
"He was an outstanding firefighter," Fairmount Township chief Jeff Theno said. "He loved his job. He was enthusiastic about being a firefighter. He was well liked by his peers and was just a really, really outstanding kid."
Moore was rushing to the scene of a one-car accident at approximately 12:03 a.m. when a patrol car from the Leavenworth County Sheriff's Department collided with Moore's vehicle.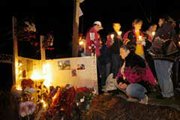 According to a Kansas Highway Patrol report, Moore was not wearing a seatbelt. He suffered fatal injuries from the vehicle accident.
Linville said Moore began his service to the fire department in August. While he was a probationary officer and wouldn't become a full-fledged firefighter for another two years, Linville said there wasn't much question that Moore was going to contribute to the department.
"From what we saw, he certainly would have been a valuable asset to the department," Linville said. "Everybody is just kind of trying to work through this right now. It's been a difficult morning for everyone."
Deputy Robert L. Peterman, Jr., 36, was transported to Cushing Memorial Hospital in Leavenworth for treatment of possible injuries. Peterman was wearing a seatbelt, according to the highway patrol.
According to the highway patrol report, Moore and Peterman were driving north on 155th Street. Moore slowed down and attempted to turn left onto Donahoo. Peterman also attempted to turn left and his police cruiser struck Moore from behind.
Both Moore and Peterman were traveling to an accident at 158th Street and Donahoo Road. There, police and emergency medical services were called to the scene of a one-car rollover accident.
According to a sheriff's department report, Rachel Miller, a 17-year-old Basehor-Linwood High School student, was taken via medical helicopter to the University of Kansas Hospital for treatment after she was ejected from her vehicle late Tuesday evening.
According to the report, Miller was driving east on Donahoo Road when she lost control of her vehicle and entered a ditch.
Her vehicle rolled over several times, deputies report.
Hospital officials at the KU Hospital would not disclose Miller's medical status as of Wednesday morning.
As of noon Wednesday, no details regarding a funeral service for Moore had been released.
Moore is believed to be the first Fairmount Township firefighter to be killed while working since Barney Eberth was killed in 1975.
Eberth died after being run over by a fire truck.