Lansing boys rested, ready for 'dogfight' at Tongie
Nagging injuries and a serious lack of depth have hindered the Lansing High boys' basketball team during its first few games this season, but none of that is likely to matter when the Lions open the 2005 year with a 7:30 p.m. game Tuesday at Tonganoxie.
If history is any indication, then when the Lions (2-3) and Chieftains (2-3) play, records and statistics will mean little. Every game in recent memory has been close, physical and full of fireworks.
Lansing has won six of the last nine games against Tonganoxie, but the Chieftains won the last two.
"We've just had absolute dog fights with Tonganoxie the last few years," LHS coach Don Allen said. "Regardless of records, regardless of who's on the floor, it has just been a flat-out dog fight.
"It's something to look forward to, and it's always a lot of fun. It's always a good game."
Allen doesn't expect it to be any different this time around, despite the fact the Chieftains lost a handful of starters to graduation and field an unproven bunch. Beyond leading scorer Kirk Rodell, Tongie is largely inexperienced.
That bodes well for Lansing, which isn't heavy on experience either. All five LHS starters are juniors, although only Jeff Slater and David Kern played major varsity minutes last year. Newcomer Ryan Robbins and sophomore Jeff Jackson are the only reserves who have seen significant minutes this season, a fact that paints a clear picture of just how depth-challenged the Lions are.
Still, while Lansing isn't exactly a veteran squad, its starters have played together since junior high and are not short on confidence. Junior guard Chris Wagner said the Lions could use that to their advantage.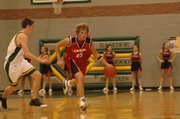 "Every game is going to be close. It doesn't matter who we play," Wagner said. "But we've all played together for a long time, so we're almost used to the pressure. If we play well we know we can beat anybody, so that's a big deal mentally because every game you know you have a chance to win."
The Lions know winning at Tongie won't be easy, but they know their chances of winning are improved because they used all of winter break to rest their weary legs and allow nagging injuries to heal.
Point guard Cody Mohan re-aggravated a shoulder injury during a car accident last week and is healing. Forward Matt Warner's sprained ankle is improving, and the Lions' other bumps and bruises are going away, too.
The healing may only be temporary if the Chieftains have anything to say about it.
"It's normally a pretty physical game," Wagner said of previous clashes with Tongie. "It'll probably be the same this time. They've lost a couple guys, but we have a little rivalry going on.
"Just going to Tongie and beating them would be huge. We lost two games there last year, so (winning there) would give us a lot of confidence."