Pipe break at
LHS

damages court
Home games may have to be moved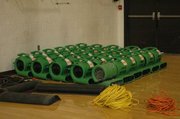 A broken water pipe at Lansing High School caused water damage that could force home athletic competitions to change venues.
The pipe broke on the second floor of LHS during the school's holiday break. Water ran down the stairs and into a hallway, a few classrooms and the gymnasium.
Significant damage was done to the gym floor and may force the Lions' home wrestling double-dual on Thursday to relocate to Lansing Middle School. It is uncertain whether the boys' and girls' basketball teams will have to move their home games too, as the extent of the damage still is being determined.
The school has 30 air blowers - often used to fuel inflatables - on hand that it will use to try to dry the water that has seeped under the floor. A decision has yet to be made regarding whether the floor will have to be replaced.
For more information on the water leak and gymnasium situation at LHS, read the Jan. 6 print edition of The Current. Look for updates on any venue changes for sports at lansingcurrent.com.