Coach joins elite club with 500th victory
Lansing — The wins didn't always come so easy for Lansing High volleyball coach Julie Slater.
She still remembers vividly the early days of LHS volleyball when the Lions had to scrap, fight and claw for every last point - and even then it sometimes wasn't good enough to win.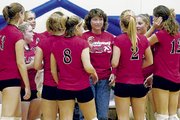 "We were 0-9 before I got my first win," Slater said, recalling her longest losing skid as a coach. "I still remember it. It was at the Tonganoxie Tournament, and you would've thought we'd won the state championship. They'd only had four wins the year before, I think. They were whatever-and-22, and they didn't know how to win. So that first win : it was pretty exciting.
"I've thought back to that a lot of times, and now we win and there really isn't that much of a reaction because you get used to it."
In the 20 years since Slater logged her inaugural victory, winning has become more than just something she and her players hoped for. It's been a way of life. The Lions have won often during two decades of Slater's guidance, and they've become one of the most successful programs in Kansas.
Slater secured her place in Kansas volleyball history on Sept. 23 when she recorded her 500th career win. Fewer than 20 coaches in the Sunflower State ever have won 500 games. Slater ranks 12th in state history with 518 victories and counting. All of her wins were with LHS.
The Foundation
It wouldn't be a stretch to say Slater encompasses the very roots of Lansing volleyball. She played on the inaugural LHS volleyball team when she was in high school, and after her collegiate career, she returned to coach at her alma mater in 1985.
At that time, volleyball was just starting to catch on at many high schools across the state, and Lansing still was struggling to find its niche on the court.
Slater's return changed all that.
"My first two years we were 11-19 and 13-16," she said. "The first two years we were under .500, and then my third year we had a winning season. The fourth year we went to state and got second, and we've been pretty good ever since."
Slater said she had no aspirations of setting records when she began coaching. It just happened.
"I just wanted to coach a sport that I naturally love and try to motivate kids," said Slater, who played two years at Kansas City Kansas Community College. "Coaching is an extension of yourself, and when you can't play anymore you coach, and you get just as much thrill and enjoyment out of it. I think most coaches will tell you that."
Whether it's been winning the 2002 state championship, capturing a league championship or having one of the dozens of players she's coached return to visit her after being away at college, Slater has had her share of highlights as a coach.
This year was no exception. In their first year playing in Class 5A, the Lions posted their 18th straight winning season with a 30-8 record, won the Kaw Valley League title and advanced to their 11th state tournament under Slater.
"Early on, right after I quit playing, I probably wouldn't have believed it, but now, 20 years down the road, some of the high points of my life have been with coaching," Slater said.
A Big Draw
As the Lions continued to win year after year, it was apparent Slater was building a program the community could be proud of. Not only were the Lions becoming one of the most successful programs in the state, but also younger players began aspiring to be LHS volleyball players.
"My sister played for her when she was in high school, so I knew how good of a coach she was. I knew I wanted to play for her," junior Casey Welch said. "I'd been following her around since I was in second grade when I started going to her camp, so I knew she was good.
"And we know her history's been great, so we know she must be doing something right."
Once players enter the program, they quickly buy into Slater's relaxed approach to the game. She pays attention to detail and expects her players to outwork their opponents, but she's never been a shouter or a sideline stormer. Instead, she'd sit back and watch her players make the magic happen.
"She just makes sure that we have fun," said senior Emily Goodlin, one of two players on the current roster who played for the 2002 championship team. "She makes sure we bond as a team at the beginning of the season so when it's time to play games we play as a team and we really come together."
Welch said it's been easy for everyone to buy into what Slater preaches because they've grown up watching her teams win. Whether the Lions have had a superior athletic squad or a team that lacked loads of talent and had to outsmart its foes, LHS always has found a way to win.
Now the program has reached a point where wins simply are expected.
"We come into this program knowing that we're probably going to have a winning record," Goodlin said, "but it's something that we have to work for every year."
Highlights,
heartbreak
There have been far more ups than downs during Slater's reign as the LHS volleyball coach. So many, in fact, that it's tough for her to rattle them all off.
The biggest hits and misses that stand out, though, seem to be from recent seasons.
Slater said she still laments not capturing the 2001 state title. That year her squad rolled into the state tournament with a 34-1 record and the No. 1-seed but never made it out of pool play. For some reason, things just didn't come together, and her most talented team ever missed out on any post-season hardware.
Most of the players on the 2001 roster graduated, but in 2002 Slater experienced one of her biggest highs as a coach when that squad captured the state title. This year's team also ranks among her all-time favorites, she said, not necessarily for its glossy 30-8 record, but because it played as hard for her as any team she's ever coached.
"I just think that somehow kids, they play hard for me," she said. "That's been the gift. I've had a lot of kids that just work so hard and try so hard, and to me, that's just awesome to have that from the players."
Eyes on future
The 500-win plateau is behind her, but Slater said she has no plans of reaching the 1,000-mark.
"Oh no, no, no," Slater laughed at the suggestion. "I don't think so."
It is conceivable that she might have at least another 100 wins in her before hanging up her whistle, though. It all depends on her family's needs.
"My daughter is in the sixth grade and she loves volleyball and plays volleyball, so a lot of it's going to depend on her and what she does and whether I'm going to be able to coach her or not because some kids can't deal with that," Slater said. "I think it'll be alright, but we'll see. That's at least three years away or more before we find out."