Connie's good cookin'
'

I don't think I'm a secret anymore'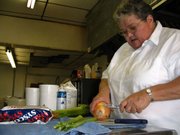 Lansing — From working at the age of 12 as a dishwasher in her aunt's restaurant to a career as a hotel chef and restaurateur, Connie Trusty's life has revolved around the art of sending customers home with their stomachs full and souls satisfied.
"I just like the immediate gratification, people liking what you cook for them, a sense of a pat on the back," Trusty said. "I just like to feed people and then have them enjoy it."
From the response of patrons at her cafe, Connie's, at 800 N. Main in Lansing, Trusty is getting her share of pats on the back.
"I eat at Connie's all the time," said Mike Howell, who lives just south of Lansing.
Some staff members have worked with Trusty for more than two years, including Jackie Holden, who said Trusty was one of the best bosses she'd ever had.
"She cares about people, she works with you if you have a problem," Holden said. "She's just a good person all the way around. Easy to work for."
Trusty is a friendly looking woman with an approachable demeanor. She's on familiar terms with many of the customers, greeting those arriving with a cheerful hello and wishing those departing a nice day, all with ease and courtesy and the assurance of a cook who knows her offerings have been well received.
The waitresses at Connie's, like the woman they work for, are welcoming and talkative. Everyone, regardless of age or gender, becomes honey, dear, sweetie, sugar. It's meant in a pleasant way and it's comforting, like the food. Connie's is the kind of place you go to when you want the waitresses to emerge from the kitchen with a hot pot of coffee, savory home-made meatloaf, a generous slice of blueberry pie and a ready endearment.
Trusty, a Leavenworth County native, worked as a cook and waitress in her aunt's restaurant throughout high school, learning basic cooking skills that she says she uses to this day.
The now-cafe owner enjoyed the elaborate banquet preparation and artistic food arrangement side of her 20 years in the busy and demanding Leavenworth County hotel and restaurant business, but she found that, as the years passed, she was happy to run her own restaurant.
And the customers who remember her from the days of downtown Leavenworth have followed her to Lansing, where Connie's Cafe has been operating for a little more than a year. Before Trusty bought the restaurant, it was McDowell's, though the building has been used as an eatery since its late 1970s inception. In its incarnation as Connie's, the cafe combines the patronage of longtime fans and those new to the area.
"My name is synonymous with food in Leavenworth," Trusty said. "I have a following."
On Saturdays and Sundays, the small cafe is packed from the time it opens at 6 a.m. until after 1 p.m.
"People are waiting for a place to sit down (on the weekends). That's a good thing," Trusty laughed.
During the week, the cafe does steady business, and customer input is always welcome. Thursdays are chicken noodle soup days and summer means strawberry pie. If a customer wants a particular soup - Trusty's cheesy Italian sausage and cabbage, for example - he or she mentions it to Trusty and the soup is put into the next week's menu plan.
"Already someone this week asked when I was having the shrimp bisque, so I have that for Friday," Trusty explained. "Today I had lasagna because someone was in here last Friday asking when I would have lasagna next."
Throughout her interview, customers would wave or stop for a few minutes to chat with the woman whose homemade pies, no-frills food and commitment to customer service have made her so popular.
"Somebody was telling me that I was the best-kept secret in Leavenworth County," Trusty said. "I thought, I don't think I'm a secret anymore."