First year in Class 5A sees
LHS

volleyball earn trip to state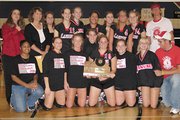 Topeka — The tears that swelled in Lansing High volleyball coach Julie Slater's eyes near the end of her team's 0-3 performance at the Class 5A state meet had little to do with the losses.
Most would have bet this group never would have made it this far at the beginning of the season, and Slater was sad to see the memorable ride end.
This was a remarkable group of players, she said, and she'd miss this bunch as much as any she's ever coached.
"This was just a special group of seniors, and my whole team, it's just a special group," Slater said as she wiped her eyes. "They have a lot of heart and desire and guts. They're very scrappy, and that has won us a lot of ballgames."
Those are the qualities that allowed Slater's squad to go 30-8 in a year where she said her squad wasn't as tall, skilled or as athletic as some of those of seasons past.
This group won because it cared so much and simply outworked its opponents, she said.
Friday evening at the Kansas Expocentre's Landon Arena, however, it simply wasn't enough.
Pool play pitted Lansing against Bishop Miege the tournament's eventual champion for the third straight year, eight-time champion Wichita Bishop Carroll and Gardner-Edgerton.
The Lions scrapped, dove and hustled to keep points alive, but the long volleys they'd won all season didn't go their way. They didn't have enough blockers to counter the bevy of big hitters they faced, and when it came to putting away their scoring chances, the Lions didn't.
Lansing had a shaky start as it opened against Carroll, the eventual third-place finisher, and fell 25-17, 25-12.
"I think that first match was key. If we could've had an upset there and then beat Gardner:" Slater said, pondering what could have been. "We knew this was going to be tough."
A heartbreaking loss to Gardner, 27-25, 14-25, 25-21, ended Lansing's chances of advancing to the semifinals. The Lions started slow in games one and three. Game two was the only time all day they caught fire. Junior Dayna Norwood fired five aces during an 11-serve span where the Lions looked as dominant as any team in the state tournament field. Junior Casey Welch added eight kills in the game.
Gardner raced to a 5-1 lead in game three, however, and despite battling back the Lions never pulled even.
"We just didn't play well in that first or third game," Slater said. "We dug ourselves a hole early and then had to battle back to get back in it. Really, if we hadn't dug that hole I think we would've been fine."
Heading into its final match against Miege with no chance of advancing, it would've been easy for the Lions to fold.
That didn't happen.
Instead, they gave the No. 1-seed Stags all they could handle and left the state meet on a high note. Anchored by two kills from Welch and a big block by senior Tiffany Turner, the Lions raced to a 5-2 lead before Miege (43-1) battled back and gradually pulled away. Game two was tooth-and-nails early as Welch and Turner led the Lansing offense, but the Stags again pulled away late.
"I'm really proud of these girls because it's even tougher when you're 0-2 and then have to turn around and play a team like that," Slater said, "so for that I'm very proud of them because they showed a lot of spunk.
"They have been like that (all season)," she added, "and I talked to them about it and said 'It's your last match. I want you to play good and go out so you have at least that memory that you gave the top seed in the tournament a tough match,' and they did."