Old Town development plans progress
Council's
OK

is unanimous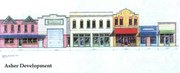 Lansing — Plans for a new development on North Main Street continue on the track toward final approval.
The Lansing City Council on Thursday night gave unanimous approval to a preliminary development plan submitted that envisions a retail-office development at 210 N. Main St.
Danny Asher, owner of Dasher Rods & Garage in Leavenworth, wants to build the four- to five-unit "Old Town" development and locate his garage in it as one of the tenants.
"Since this is in Old Town, which one's going to be the saloon and which one is going to be the jail?" joked council member Robert Ulin.
With the approval, Asher now will submit a final development proposal that must win approval of the Planning Commission and City Commission before he can begin construction.
Asher has said he would like to break ground on the project in early 2005.