Runners make headway at state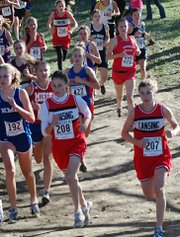 Lawrence — Moments after crossing the finish line at the Class 5A State Cross Country Championships at Rim Rock Farm, Bianca Manago slumped to the ground in pure exhaustion.
The Lansing High sophomore had just finished the toughest race of her life, and her legs had given all they could.
Nearby, teammates Erin Eustice, a junior, and Rachel Pride, a freshman, leaned on each other for support as they, too, recovered from conquering the most daunting cross country course in the state.
The three were Lansing's representatives at the state meet and the school's first ever to compete in a 5A race after moving up from Class 4A this fall. Their wobbly legs were evidence that they all ran solid races to end their season.
Manago led the Lions, finishing 41st overall in 13:23.61. Eustice followed two spots behind in 13:24.25. Pride was 56th in 13:39.50.
Winfield's Ellen Thompson was the overall champion in 12:18, just ahead of Kelsy Long of Bishop Miege. The Stags won the team title with 72 points, 25 points ahead of runner-up Topeka Seaman.
"I'm pleased with the way the kids ran," LHS coach Errol Logue said. "We came in here like Little Red Riding Hood with jam on our faces and we didn't know what to expect, and yet the kids competed. They didn't psyche themselves out or anything."
It would've been easy for the Lansing trio to be psyched out by the massive pack of runners, frigid wind and colossal hills that make up Rim Rock Farm, but that didn't happen. Instead, they ran as a pack and pulled each other through the rugged course.
Manago led the way and Pride clipped closely at her heels. Eustice kept pace about 10 yards back.
"They usually start out faster than me," Eustice said. "I just tried to catch up with them toward the end of the race."
After winding through fields, dodging trees and circling a lake, the trio broke apart on their own for the final march up "suicide hill" - a 100-meter climb up about a 50-degree incline - and then across the Rim Rock skyline to the finish line. That's where Manago made her move.
"Coming up that hill," Logue said, "that's where she said that's going to be the time to attack. I'm tickled with her."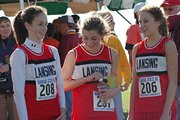 Eustice also pushed up the hill and finished strong, just a split-second behind Manago. Pride sprinted across the finish line 15 seconds later.
"Erin runs very well, very solid," Logue said. "And I think Rachel can run better than she did today, but she's a freshman and you come into this as a freshman, it's a shocker. She'll be much stronger next year because she's been here."
Manago had hoped to finish in the top 30 after finishing 40th in 4A as a freshman. That didn't happen, but she said she was proud of her race because there was better competition.
"It was a much tougher field, and my time was better," Manago said. "In 15 seconds there were 15 girls in between Rachel and I, so that kind of puts things in perspective."
Still, she said her first 5A state meet was a positive experience.
"I love this course," she said. "It's so pretty and it's so much fun to run on. There were so many girls, and that was a little nerve-wracking and it was really windy, too. But not making any excuses, it was a fun race and I enjoyed it."
The most challenging aspect of the course was, without question, the hills. In particular was "suicide hill," a feature the 4A course in Wamego didn't have. Eustice - a three-time state qualifier - referred to it as "a staircase," while Pride said "you pretty much could use your hands, if you wanted to, to get up it."
Logue said his runners did a great job attacking the course, and he said he was proud of them.
"I was pleased with them. I thought they all three ran well," he said. "Nobody mushroomed, gave up and choked or anything. They came up and ran and they competed real well."