Students learn from baseball legend
Lansing — After reading a book that focused on the breaking of Major League Baseball's color barrier, it was only fitting that Lansing Elementary School's third-grade students sat down to talk to a man who lived through it.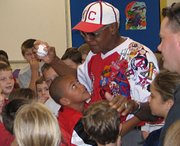 Baseball legend Buck O'Neil stopped by the Sallie Zoll building on Oct. 25 to talk to students about his friends Jackie Robinson and "Pee Wee" Reese - the subjects of Peter Golenbock's book, "Teammates," which the students had read.
O'Neil also shared a few baseball tales of his own and emphasized the importance of getting an education.
"The kids knew he was going to be coming for the last couple of weeks," Lansing Elementary School principal Tim Newton said. "The kids have been talking about it and were getting excited about it.
"They're at that age where they can make a connection of how some things have changed from how they were 30 or 40 years ago to where we are right now."
"Teammates" told the story of how at a game in 1947 against the Cincinnati Reds, Reese, a white hall-of-fame shortstop, embraced Robinson, the first black major-league player, in front of jeering Reds fans and called him a teammate. The gesture helped end the color separation that at the time divided players and fans alike.
O'Neil could speak first-hand about understanding that monumental move.
At that time, O'Neil was a standout first baseman and coach of the Kansas City Monarchs of the Negro Leagues. In 1962, he became the first black to coach in the majors when the Chicago Cubs hired him.
He quizzed the students on their knowledge of Robinson, as well as the meaning of various baseball terms. Education was his primary focus, however.
"An education is one of the most important things you can do for yourself," O'Neil said. "I'm still learning, and I'm 92!"
O'Neil's message was important to Lansing Elementary's teachers and staff.
"What Buck O'Neil says is he's still a learner, and learning doesn't stop because you get out of school," Newton said. "You continue to learn. Life is a learning process, and that was the message Buck was trying to get to the kids."
O'Neil seemed impressed by the young students as they asked him questions about a variety of topics, ranging from his playing career, to the life of Robinson, to the days of segregation.
O'Neil happily answered each question, speaking of issues such as the landmark Supreme Court decision in the Brown v. Board of Education segregation case, civil rights icons Rosa Parks and Martin Luther King Jr., as well as drawing on his own experiences.
"The kids can really get a perspective from someone who went through some of the issues that went on in that time period," Newton said.
"It really is unique to have someone like Buck in this area that is willing to come out to talk to the kids."