Volunteer of the year: Mike Neve
When it comes to getting involved, Mike Neve sets an example. When asked to help, his reaction is to answer the bell. And last month, Neve received the city's 2004 Volunteer of the Year Award for his service to community.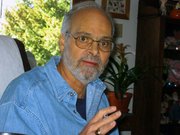 Neve said he began getting active in the community when he was invited to join the Lions Club soon after he arrived in Lansing. He hasn't stopped since.
Examples abound. An original member of the Lansing P.R.I.D.E. steering committee he has helped establish many volunteer programs. He's contributed to home renovation and winterizing projects to help the elderly. He's been a coordinator of Lansing Daze, he's worked with schools and given hours to the Lansing Museum and Lansing Library. Neve said one of the things he's most proud of is being involved in planning for Lansing schools.
And working with P.R.I.D.E., he said, has been satisfying in the way it has expanded his horizons and gotten him involved in the most activities in the community.
Neve said he's pleased to see the way Lansing is growing. It is, he says, a good place to get involved.
Name: Mike Neve
Address: 27263 155th St.
Occupation: Deputy warden, Kansas Correctional Facility
Graduate of: Wichita State University, criminal justice
Family: Wife, Marjean; two grown daughters
How long have you lived in Lansing and what brought you here? Employment opportunity, 21 years
What do you like most about Lansing? Hometown, friendly community.
What do you do to relax? Golf4Fun
What would surprise people about you? That I had really been involved in as many activities as were listed in the newspaper relate to the recent awarding of the 2004 Volunteer of the Year Award.
What's the best advice you ever received? To think first before inserting foot in mouth!
What organizations or clubs do you belong to? Lansing Lions Club, Knights of Columbus, Lansing P.R.I.D.E.