Commissioners to vote on annexation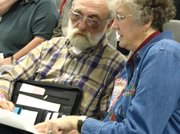 Lansing — The issue of Lansing's petition to annex about 1292 acres south of its border, a request that has met with disapproval by many of the area's residents, is nearly at an end for this year, at least.
Lansing Mayor Kenneth Bernard said Leavenworth County Commissioners would vote on the issue between Nov. 10 and 12.
Thursday afternoon county commissioners heard from both Lansing and residents of the affected area. Citizens were allowed nearly two hours to speak on the issue. None who spoke were in favor of the petition. Most concerns centered on tax increases and the symbolic act of annexation.
Herman Visocsky, representative for the Citizens Against Lansing Annexation, said he had calculated his taxes would see an increase of $107 a month were his property annexed.
Several residents expressed distaste for being part of the city and having to obey city laws, saying if they had wanted to live in the city, they would have settled there and not in the country.
Resident A C Byrd said that while he thought Lansing was a fine town, he liked driving "right through it on my way home."
At the hearing Thursday afternoon the commissioners said they would hold a study session Nov. 9 to look over maps of the area in greater detail and consider the information provided both by the city and by Citizens Against Lansing Annexation.