Eric Graham made the best of a beautiful day for running.
Photo Gallery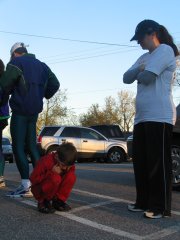 Awesome Autumn 5K run: The Race
Graham, Olathe, set a course record at Saturday's sixth annual Awesome Autumn 5K run sponsored by the Lansing Lions Club. Graham led the pack of more than 70 runners with a time of 15:23.
Runners covered a course that started at the Lansing Activity Center, went to Lansing Middle School, then back to the activity center.
A pancake breakfast followed the race, and new this year, registration for runners included the post-race pancake breakfast.
Although the Lions Club does not yet have an exact figure of how much the run brought in, Lou Sperl, president, said Tuesday he expected the event reached the club's goal of raising enough money to fund projects that benefit the community.
Proceeds help the Lions fund three scholarships for Lansing High School seniors and a program that provides eyewear to people in need.