Lansing — For the past five months, Danish Army Capt. Claus Wammen and his family have lived in Lansing, half a world away from their home in Denmark.
Photo Gallery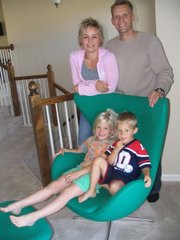 Danes make themselves at home in Lansing
Claus and Tine Wammen moved to Lansing in June with their two children, Alma and Conrad. They will live here until next summer while Claus attends an officer training program at Fort Leavenworth.
Wammen is participating in an officer-training program at Fort Leavenworth. He is the only member of the Danish army training there.
Thanks to technology, though, they are not homesick - at least not yet.
With the help of their computer, a Web cam and the Internet, they don't lose touch with family and friends back home.
"We probably talk to our parents more now than when we were an hour and a half away from our parents," Claus said.
Claus and his wife, Tine, communicate to their parents, siblings and friends in Denmark through their broadband Internet connection and Web cam.
"We made sure our families had everything before we left," Claus said.
Though Claus said it was not prohibitively expensive to make phone calls to Denmark, the Wammens liked using the computer to communicate.
The Wammens said the Americans they have encountered have been welcoming and helped them adjust to a new country and culture.
"We love being here. Everyone is so friendly," Tine said. "It's always 'How are you?' and 'Have a nice day' wherever you go."
Although officers from around the world regularly move to the area to attend officer training at Fort Leavenworth, it is a more unique situation for the Wammens. Though it is uncommon for the Danish army to station its members outside of Denmark, Claus has been stationed previously in both Kosovo and Bosnia for six-month installments.
A year in Lansing
Danish Army Capt. Claus Wammen shares his thoughts on American life in Lansing in his blog. This week, Wammen discusses his experiences at the Kansas City Chiefs game, the American Royal rodeo and the 2004 Presidential elections. Read this entry.
Coming to the United States, he said, is even more of a privilege.
Even though they speak Danish to their children at home, language is not much of an inconvenience for Tine or Claus in the United States. Schools in Denmark begin teaching English in fourth grade and German in seventh grade.
Both Claus and Tine have experience speaking English in their careers, too. English is a command language, or a common military language throughout NATO, for the army. Tine uses English regularly in her job as director of marketing for the Aalborg Congress and Culture Center.
Living in America
Tine and Claus are familiar with American ways. They each lived in the United States before they were married. Tine lived in Clearwater, Fla., for six months and lived with a family.
This extended visit to the the United States has helped the Wammens to analyze the differences in the American and Danish cultures.
They see differences in politics, taxes and government. They've watched the presidential campaign and are observing the American form of democracy at work. The prices of cars and gasoline are substantially less expensive in the United States.
Claus said he saw a striking difference between the curricula in American schools compared to schools in Denmark. He said that Danish schools strived to achieve understanding of concepts, while he perceived that American classes focused on multiple-choice answers and tests.
Children
The Wammens' children, 6-year-old Alma, and 4-year-old Conrad, have had to make the adjustment to speaking a new language, but their parents think the youngsters are picking up English quickly.
"It's just as natural as anything," Claus said. "Alma can really put sentences together now."
Alma is a kindergartener at Lansing Elementary School. The school provides a one-on-one teacher who meets with Alma daily for an hour. Alma now understands most of what her teachers say to her in class.
Alma and Conrad have had the chance to interact with many of the other children whose fathers are in the American national officers community, as well as meeting children in other social settings. Conrad is playing soccer in a local league. Alma has started horseback riding.
Challenges
Spouses of trainees in the Fort Leavenworth training program agree not to work while in the United States, so Tine has also done a fair amount of shopping, which is not without its own challenges. Her first trip to the grocery store wound up being an adventure.
"It took hours," Tine said. "I'd have to read carefully and ask, 'What is this?' and 'Can I use this to make what I need?'"
She said she missed the convenience of shopping in their native Aalborg, the fourth-largest city in Denmark, where stores were much closer to their home than they are in Lansing.
"It was all right there," Tine said. "I could get all of my shopping done before noon. Now I need a whole day."
In June 2005, the Wammens will move back to Denmark. But they hope that it is not their last time in the United States and Lansing.
"Maybe we will get lucky again," Tine said.