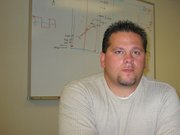 It seems only fitting that John Jacobson, a Lansing product, received the city's first-ever Employee of the Year award. A 1987 graduate of Lansing High School. Jacobson started work with the city in 1990 at the wastewater plant. Since then, he's held the position of building inspector and was named community development superintendent in 2002. In that post, he has a hand in shaping Lansing's growth, and he says he's proud of having had a part in how the city has grown in recent years. Jacobson sees that growth continuing and doesn't find it surprising.
Lansing is, he said, "the best community in the area to live in."
Name: John Jacobson
Address: 819 Englewood
Occupation: Lansing Community Development superintendent
Graduate of: Lansing High School
Family: Wife, Wendy; four children, Allyssa, Myia, Joshua and Jake.
How long have you lived in Lansing and what brought you here? 30 years; family moved to the area.
What do you like most about Lansing? "Hometown" atmosphere with the courage to take the next step in becoming a cutting-edge community.
What do you do to relax? Motor sports, diving
What would surprise people about you? That I'm a Lansing product; that I was from the community and returned to it.
What's the best advice you ever received? Never take an opportunity for granted.
What organizations or clubs do you belong to? International Code Council, Leavenworth-Lansing Leadership, International Association of Mechanical and Plumbing Officials.