Fall athletes honored at banquet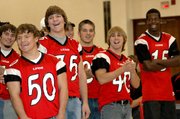 Of all the awards presented during Lansing High's annual fall sports awards banquet Tuesday night, one in particular drew noticeably more applause and laughter.
As football coach Bill Pekarek stepped away from the microphone after recognizing his squad for posting an 8-3 record and delving deeper into the state playoffs than any LHS football team in history, junior running back Jeff Slater stepped to the microphone with a gift in his hands.
"This will get you by until your old one grows back," Slater quipped as Pekarek pulled a Groucho Marx-like mask of sunglasses and a fake moustache out of a box.
The Lions shaved Pekarek's moustache after they won their final district game against Bishop Ward.
Although that particular honor was humorous for the fourth-year LHS coach, the rest of the evening maintained a more serious tone as Pekarek and volleyball coach Julie Slater were recognized for milestone victories. Coaches from the football, volleyball, boys' soccer, girls' tennis and cross country teams also recognized their athletes for team success, as well as for individual honors. In all, 90 fall athletes received varsity letters and 18 received All-Kaw Valley League honors.
FALL SPORTS BANQUET
FOOTBALL
Team honors:
Record: 8-3
Kaw Valley League: Third place
District Champions
Bi-District Champions
Regional Runner-up
Individual Awards
Defensive line/ends
Ryan Robbins - All-KVL second-team
Linebackers/Defensive backs:
Jeff Slater - All-KVL first-team
John Tytla - All-KVL honorable mention
Offensive line
Aaron Sexton - All-KVL second-team
Offensive backfield/receivers:
Jeff Slater - All-KVL second-team
John Tytla - All-KVL second-team
Kickers and Punters:
John Tytla - All-KVL second-team
CROSS COUNTRY
Team honors
Girls
Kaw Valley League: Second place
Class 5A Regionals: Fifth place
State qualifiers: Erin Eustice, Bianca Manago, Rachel Pride.
Individual honors
Bianca Manago - All-KVL
Rachel Pride - All-KVL
Ashley Mayes - All-KVL
Erin Eustice - All-KVL
Boys
Jerrad Willis - All-KVL
BOYS' SOCCER
Team honors
Record: 8-9
Kaw Valley League: Fifth place
Regional Runner-up
All-KVL teams not yet released
VOLLEYBALL
Team honors
Record: 30-8
Kaw Valley League: First place
Class 5A sub-state champions
Lansing Invitational: Second place
Louisburg Invitational: Second place
Anderson County Tournament: First place
Individual honors
Casey Welch - All-KVL
Emily Goodlin - All-KVL, Anderson County All-Tourney
Carolyn McKune - All-KVL honorable mention
Tiffany Turner - Anderson County All-Tourney