LHS

to present production of Simon's 'Lost in Yonkers'
Underclassmen will play major roles this weekend in the Lansing High School presentation of Neil Simon's Pulitzer Prize-winning play, "Lost in Yonkers."
The play, an autobiographical account of Simon's family living in New York in the early 1940s, is presented by the LHS Drama Department. Performances are scheduled for 7:30 p.m. today, Friday and Saturday at the Lansing Intermediate School Auditorium.
Freshman Russell Buchanan will play "Eddie," a widower who lost his wife to cancer. To pay his wife's medical bills, Eddie has taken out a large loan from a loan shark. Hoping to earn enough money quickly to repay the loan, Eddie must go to the South and work as a buyer of scrap metal, which the country desperately needs for the war effort.
Photo Gallery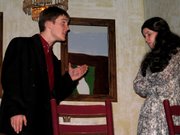 Lost in Yonkers
Scenes from Lansing High School's production of Neil Simon's Lost in Yonkers.
He sees that his only option for his sons, Arty and Jay (sophomores Matt Fischer and Matt Peterson), is to stay with their strict grandmother (senior Charity Armstrong). In addition to learning to live with their grandmother, the boys must adapt to their ditzy Aunt Bella (senior Elena Stephenson), gangster-like Uncle Louie (junior Brian Butler) and strange-talking Aunt Gert (senior Katie Lowe).
Playing the part of Bella in tonight's performance will be understudy Samantha Mitchell, a junior.
"Lost in Yonkers is a unique blend of comedy and drama, a play that many critics consider Simon's best play," director Ken Church said.
Working on the backstage preparations have been juniors Neva Kelloff, as stage manager, and Tarin Maley, as properties manager. Assistant director is senior Kaitlin Riccio. Technical director is senior Tanner Couvelha.
Additional backstage assistance comes from Marcus Bean, Demarin Montgomery, William Dolan, Nick Kelloff, Zach Beatty, Bud Kings, Ashley Kings, Rita Edmonds, Leslie Fink and Kristin Brandt.
Tickets for "Lost in Yonkers" are $5 and may be purchased in advance at the high school office, from Drama Club members or at the door.