Loss to Holton ends Lansing's 8-3 season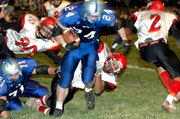 Holton — The Lansing Lions huddled around another postseason football plaque Saturday night at Holton High School, but this time the looks on the players' faces were different.
The flashy grins the Lions displayed as bidistrict champs Nov. 2 were replaced by red eyes and scowls.
Sure, this was the most successful Lansing High football team in history, but a 69-22 loss to No. 1-ranked Holton (11-0) in the regional playoffs wasn't how the Lions envisioned having their sensational season end.
"To go out like this isn't necessarily good," senior wide receiver Neal Watson said. "But we can't hang our heads about it."
The Lions have no need to, after the numerous milestones they reached in 2004. After an 0-2 start, the Lions reeled off eight straight victories, became one of the strongest teams in the Kaw Valley League and won a playoff game for the first time in more than 20 years.
In fact, coach Bill Pekarek said it's the farthest any Lansing team has ever been in the state playoffs, making this the most successful football team in Lansing history.
"This has been a great football year," he said. "I think the way we started out, and then we got on a roll where we're winning one game after another - that was a great ride."
The Lions lost their first two games handily, to Tonganoxie and Mill Valley, but played flawlessly for the most part as they won their next eight. The offense showed steady progress as the season progressed, but the defense carried them throughout the year.
Ironically, it was the defense that was largely nonexistent against Holton. Lansing had allowed just an average of just over 230 yards per game through the first 10 games of the season, but the Wildcats piled up 441 yards of total offense - 391 of it on the ground - Saturday night.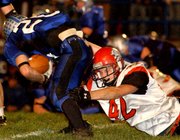 "Our defense, we didn't step up tonight like we have been," Watson said. "They hit the holes faster. We're not used to it."
On the bright side, Lansing isn't the only team in the state that has had trouble containing Holton's blistering running game. The Wildcats have trampled almost every opponent they've faced this season. Only one team has lost by fewer than 24 points to them all season, Marysville, which lost 24-17 in a bitter rivalry game where Holton wasn't at its best.
"They've got some size advantage on us and their backs ran hard," Pekarek said. "Sometimes we weren't in good position to make the tackle, so their back just kind of shoved us down and kept going."
Despite the size differential, the Lions never gave up. They dug a 21-0 hole in the first eight minutes, but quarterback Matt Warner's 41-yard touchdown pass to Jeff Slater, followed by a heads-up play on special teams by Steve Lillard just six seconds later pulled LHS within 21-15. Even when Holton led handily in the second half, the Lions continued to pick up first downs and make gutsy plays on offense.
The fight was clearly evident, but the size mismatch was too damaging. That's the greatest lesson Warner said the Lions would take from this game as they look forward to the 2005 season.
"We have to get in the weight room. We have to get bigger," Warner said. "That's the reason we lost. We weren't big enough. We weren't strong enough."
Nine months of offseason is a lot of time to rectify that problem, and Warner said the Lions would take the lesson to heart.
"It gives you all the drive you need," he said.
That's easy for the underclassmen to say. They'll get another shot at the playoffs next year.
Seniors John Tytla, Josh Coleman, Jeff Collins, Aaron Sexton, Kyle Hay, Matt Mowery, David Hartel and Watson, won't have another chance. But they succeeded at leading Lansing deeper into the postseason than any other team in history. For that, Watson said, he is proud.
"Ever since I've been in middle school I've always come to watch Friday high school games, and I always thought I'd be one of those guys," Watson said. "To make it all the way to the regional game means a lot."