Proud to serve
At 82, she only wishes she could have done more
Lansing — The year is 1945, and for Women's Army Corps Cpl. Ann Cavlovic, music is the thing. There's the voice of Kate Smith, whom "nobody sings like," except Cavlovic's mother back in Pennsylvania. There's the slick crooner Frank Sinatra, a teen heartthrob hated and feared by parents as Elvis Presley would be a generation later.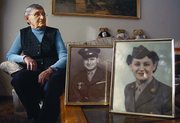 And then there's Bing Crosby. He was Cavlovic's favorite; she said she was hip to Sinatra, but "he was a showoff, and I liked Bing better than Frankie." Where Sinatra was oafish, Crosby was debonair; where Frank was cocksure, Bing was humble.
While Cavlovic was stationed at an amputee center in Texas, she was thrilled to see "El Bingo" and another celebrity, Bob Hope, come and perform during a dance for the servicemen and women stationed there.
A Hollywood version of Cavlovic's life might alter events so that she would have met her soon-to-be husband at the dance, but that wasn't the case. Pvt. Edgar "Mac" Scarborough wasn't there that night, and Cavlovic wouldn't meet him for another two weeks.
When their paths finally did cross, it began something more meaningful than a sappy, must-see-TV love story. It led to a 52-year marriage that produced five children, including three sons who followed their parents' footsteps by marching into service for their country.
Proud to serve
As the nation celebrates Veterans Day today, it's important to remember that the sacrifices made by those serving in the armed forces were not made solely by men. There were women like Ann Scarborough of Lansing, who worked behind the scenes, made sacrifices of their own and contributed to war efforts in ways other than fighting with boots on the ground.
"No regrets," Scarborough said. "We were all proud of our country. I always wished I was a boy so I could have done more. We all loved to be in the service. I loved my Army experience. I just wish I hadn't gotten out so soon."
It would be negligent to recall the sacrifices made by her husband - for three years and four months, "Mac" was a Japanese prisoner of war and was one of many forced to walk the brutal Bataan Death March - as well as those of her sons without first recalling her own.
For 22 months, Scarborough worked in the administrative offices of several hospitals that treated the battle-ravaged soldiers of World War II. Later in life and after raising her children, Scarborough began a 20-year career working at the Veterans Administration Hospital in Leavenworth.
In that time, she has seen the ill effects of war inflicted on both her family and others.
Scarborough, a longtime Lansing resident, today lives in a quiet residential neighborhood on Karen Lane. In front of her home, she placed a yellow ribbon and a sign that indicates she "supports our troops."
History of support
The truth is that Scarborough, who celebrated her 82nd birthday Monday, has never stopped supporting America's soldiers.
"That's for all the boys," she said. "I know they've fought for us. I know they're fighting for us now. I know what they've gone through and are going through. I know what they come home with."
She especially knows what her husband, Edgar, returned home with: The 40-odd months Edgar was held captive left his body damaged with burn marks, scars from bayonets and shrapnel in his knee, among numerous other injuries. He died in November 1999 from cancer and other complications.
"He would try to board a plane and that (shrapnel) would make the bell go off," Scarborough said. "He would say, 'Let me pull my pant leg up, and I'll show you where the metal is.'
"It was really hard for him to speak about it. He didn't like to remember. He didn't want to," Scarborough said.
Edgar was taken prisoner May 6, 1942, when his unit was forced to surrender at the island of Corregidor in the Philippines. Beginning the day of the surrender, POWS were harshly beaten or executed. The POWs, most of whom were injured and malnourished, also were forced to march to another camp, 55 miles away. On the march, the POWs were beaten or killed if they fell behind.
Of the 70,000 soldiers forced to march, only 54,000 reached the camp. Various estimates place the number of casualties of the Bataan Death March between 7,000 and 10,000. Some prisoners escaped to the jungle.
"I don't think he would have gone (into service) if he would have known (what was going to happen)," Scarborough said. "I don't think I would have. I don't think anyone would."
Mum's the word
Edgar Scarborough was returned home in 1946 and weighed 98 pounds. He usually would only speak of his time as POW to friends at the pub or to other POWs. Most times, he wouldn't talk about it at all, his wife said.
"He would get tears in his eyes," Scarborough said. "They didn't have much to eat. They were beaten. They were barefooted. He had frostbite on his toes."
Eventually, Edgar loosened a bit on talking about his time as POW. He was always proud of, and quick to show off, a picture published in a book from Time that featured him front and center with other POWs.
"He showed it off to all his friends," Scarborough said with a chuckle. "He carried it around in the car with him."
Family tradition
Despite the physical and emotional scars left on her husband by the war, Ann and Edgar didn't dissuade their three sons from joining the armed services. In fact, Scarborough said, they encouraged the boys to enlist and even tried to convince their two daughters to do the same.
While the girls thought better of it, Scarborough's three sons fought in foreign campaigns. The two oldest, Edward and John, fought in Vietnam. Although both are now deceased, they did return home safely from the war. The youngest son, Joe, joined the Navy and fought in Desert Storm.
"They were proud to do it, and we were proud of them," the boys' mother said.
Today, Scarborough is still a fan of music - the smooth sounds of the Big Band era has been replaced by the rattle and hum of country music - and of America's servicemen and women. The country, she said, owes a debt to all of its veterans.
Inside Scarborough's home, photos of her husband and sons in their military uniforms are arranged throughout the living room. An American flag encased in a wooden, triangular container is also nearby. And while Scarborough hasn't been in the Army for nearly six decades, the thoughts from long ago aren't far from her mind.
To honor those closest to her, as well as all others who have worn an American military uniform, she'll participate in today's Veterans Day parade in Leavenworth. She'll probably be riding in a car - at 82, she isn't as spry as she used to be - but she'd rather be participating the way she did in years past.
"I used to carry the flag, but it got too heavy," she said. "I would still carry it if I could."