QB

Warner finishes in style
Holton — Matt Warner shook his head Saturday night as he quietly walked off the field at Holton High School.
Warner, Lansing's junior quarterback, was kicking himself for not doing enough in the Lion's 69-22 loss to No. 1-ranked Holton in the regional playoffs, and he still looked a little shell-shocked at the reality that his season was over.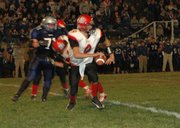 Nearby, however, LHS coach Bill Pekarek's assessment of Warner's performance was much different. Pekarek said he couldn't have been prouder of Warner for the way he battled and led the Lansing offense.
"I thought he threw the ball well tonight," Pekarek said. "We sometimes dropped some passes that we probably should've caught. We had some good pass plays, just not enough offense tonight."
Truth be told, it might not have been possible to generate enough offense to hang with Holton, considering the Wildcats racked up 441 yards of total offense. Lansing mustered 293 yards of offense, and Warner contributed to 256 of those yards. He led the Lions with 21 yards rushing and added career-highs in pass attempts (47), completions (21) and passing yards (235).
Three months ago few believed Warner would become so good by season's end. In a season-opening loss to Tonganoxie he threw six interceptions. In the week two loss to Mill Valley, he threw three more. At that point Pekarek cut back on Lansing's passing plays and went almost strictly with with the run and beat Santa Fe Trail, 10-7.
"At the beginning of the season against Tonganoxie : six interceptions. I just didn't understand how to read defenses," Warner said. "That's the first thing I had to do. It probably wasn't until week four against Bonner Springs that I started reading defenses."
"Going into Tongie I had confidence. I just didn't know what I was doing. I had no experience. Playing varsity ball was a lot different than playing JV. My mindset wasn't any different, but the knowledge that I have now is different."
Against Bonner, Warner completed five of 10 passes, including three for touchdowns. It was at that point Pekarek said he could tell his quarterback was going to be OK.
"He's played really well from about game four on as far as being a total quarterback," Pekarek said. "The third game we didn't throw hardly at all. We pretty much ran the ball. Then we started letting him throw more.
"Some kids couldn't bounce back from that - they would've been affected all season. I thought Matt kept his composure and kept working hard."
Pekarek said the Lions made it clear to Warner that he would still be their guy and let him know they believed in him. In return, Warner worked harder and harder to improve.
The results spoke for themselves. Warner threw two touchdown passes in the homecoming victory against Spring Hill, one against Immaculata and two in the three-overtime thriller against Basehor-Linwood.
"He kept working hard for us and doing what we asked him to do," Pekarek said.
When district play arrived Warner emerged as the whole package. He showed discipline and patience in finding receivers John Tytla, Neal Watson and David Kern. He fearlessly tucked the ball away and ran when necessary and consistently made intelligent decisions. Four more victories, a district championship and a bidistrict title followed.
His gutsy effort against Holton was the latest in a series of impressive performances that had Warner's confidence sky-high by season's end. That's what made the loss Saturday toughest for him to handle. He and the Lions had been playing so well.
But, Warner said, the past three months have given him every reason to believe the 2005 season can be even better - especially considering LHS loses just eight players from this year's team.
"I'm real excited," Warner said. "This is what we've been talking about since middle school. This is the team. We're only missing a couple people. We can do it."