Red Devils win title to cap perfect season
Easton — Slightly more than a minute remained on the clock Friday night at Pleasant Ridge High School, and the Lansing Red Devils' defense was called upon to make one final stand.
Photo Gallery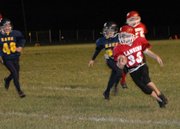 Lansing Red Devils
The Lansing Red Devils, a tackle football team composed of local third- and fourth-grade students, won the N.E.K.A.A. Super Bowl. They defeated Pleasant Ridge, 14-6, in the championship game and completed an undefeated season at 8-0.
Their defense had allowed just two touchdowns all season, and with 78 seconds standing between the Devils and a third- and fourth-grade Super Bowl title, nothing was going to change.
The defense held strong, and the Lansing players and fans erupted in celebration.
Lansing 14, Pleasant Ridge 6.
It was the perfect finish to a sensational season where the Devils went undefeated at 8-0.
"I'm really proud of all of them," coach Rich Schneider said.
Smiling parents hugged their football players, held them in their arms or tussled their hair.
High-fives were given all around, and the squad was presented with its 2 1/2 foot tall trophy.
"This was a really great effort," Schneider said. "It was an effort by 24 kids all year."
"It's just great to see parents involved in their kids' lives," he added. "They pay the fees, rush them to practice, come to the games: and then to have a night like this."
After a scoreless first quarter, Lansing took the lead midway through the second quarter. Joe Schneider made a 20-yard run around the left side that gave the Devils the ball on the 4-yard line. Moments later Mark Newberry plunged up the middle for a touchdown. The two-point conversion was good for an 8-0 lead.
Joe Schneider pushed the lead to 14-0 when he broke free down the left sideline for a 54-yard touchdown with about five minutes left in the third quarter. Pleasant Ridge pulled to within 14-6 with 2:31 left in the game on a three-yard touchdown run, but the conversion failed. After a Lansing turnover the defense held strong one final time and secured the championship.