Second-grade teacher Dee Veltum keeps her students on their toes by putting a hat on her head.
Photo Gallery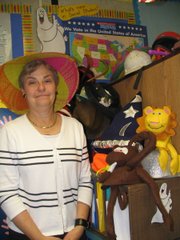 Hats on: Mrs. Veltum's hat collection
Second grade teacher Dee Veltum incorporates hats into her classroom exercises at Lansing Elementary School.
No matter what is going on in her sometimes-chaotic classroom, when Veltum's second graders see her get a hat off the rack, all eyes are on her. But the Lansing Elementary teacher, now in her 11th year at the school, only dons the hats when the situation calls for it.
"If I sense I'm losing them, it's a way to bring them back to me," Veltum said. "If I used them all of the time, they would be less effective."
Each year her students and friends help add to her collection. One hat came as a gift from a friend of her son, Don. After working at a ski lodge in Colorado, Don brought his mother back one of the hats that many skiers wore on the slopes. When put on, the hat looks like a lion's mane with Lansing red, black and white tassels. Veltum dubbed this hat her "wild and crazy hat."
Veltum doesn't remember how she got started collecting hats, but she remembers her first was a chef's hat.
Whether she is wearing that chef's hat and cooking up something with her students, or her students are monkeying around, Veltum has a hat for just about every occasion.
After tests, she puts her sun hat on because her "students are so bright." Veltum's hats send her students cues and keep them engaged.
"It's an attention grabber," Veltum said.
But it's not just Veltum's students who are taking notice of her unique collection.
"I usually have parents come up to me at back-to-school night and ask me, 'So what's the deal with the hats?'
At this point in the school year, her overflowing hat rack leaves some of her students in suspense; she hasn't used all of her hats yet. Veltum gradually introduces her many hats to her students throughout the year.
There are some rules that go along with her hats. Veltum never shows her hats off outside of the classroom. And her students know better than to try to wear her hats. Later in the year, that will pay off (but the rest is a surprise).
Her husband, Lee, was a career military man, which kept the Veltums moving around the country. Veltum has taught in a variety of settings. She started off substitute teaching in Montana and Mississippi. After a spending time in Hawaii as a preschool teacher, she and her family moved to Lansing when her husband was transferred to Fort Leavenworth.
Though her husband died in 1999, Veltum had found her niche teaching second grade.
"They are little enough, but at the same time starting to be independent," Veltum said of her second-graders. "Instead of learning to read, they are reading to learn."