Leavenworth County Veterans' Day Parade 2004
Leavenworth — It was a cold but bright Nov. 11 and not yet 9 a.m. when spectators began lining the Veterans Day Parade route in downtown Leavenworth. Amid flags snapping in the brisk wind and the twirl of batons from marching band members people from as near as Leavenworth and as far as Topeka gathered to honor and remember veterans.
Photo Gallery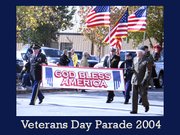 Veterans Day Parade
Spectators huddled in blankets, brought chairs and downed hot chocolate to ward off the cold. Many small flags waved as parade participants marched proudly by.
County and city officials turned out, joining high school marching bands, Reserve Officer Training Core groups, and several veterans' organizations in the ranks of the parade. Other participants included Fort Leavenworth Hunt and the Tonganoxie marching band.
The Veterans of Foreign Wars Post 56 in Leavenworth hosted the parade. The entire parade halted at 11 a.m. and "Taps" was played.
See below for a video clip of the Lansing High School Marching Band.