A riverfront vision for Lansing
John Bennett's face gleams when he talks about his vision for Lansing.
The former city councilman doesn't look south along Kansas Highway 7 to see the city's future. He looks to the east, where Lansing's farthest points end at the Missouri River.
Where soybean fields and the "Big Muddy" now occupy the area, Bennett envisions "Lansing Landing," a riverside area with shops, restaurants, an ecological and historical center and naval museum, perhaps a railroad station that would serve as home for a Lansing-to-Kansas City excursion train ride. Alongside would be the only Missouri River marina between Omaha, Neb., and St. Louis. The crowning piece would be a bridge spanning the river to tie into Missouri Highway 152, giving drivers on the Kansas side of the river a straight shot to Kansas City International Airport.
Bennett has made presentations on his idea to friends, civic groups, service groups, Lansing City Council and the Planning Commission. He's discussed the idea with state officials, lawmakers, officials on the Missouri side of the river and officials who have been involved in riverfront developments in Sioux City, Iowa, and Omaha.
Nowhere, he said, has he received anything but positive comments.
Now, he said, he'd like to see a plan emerge from the vision.
"If I were 30 years younger, I would run with this and see if I couldn't make myself millions," he said.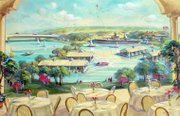 But he's not. At age 65, Bennett says he
re and involved in this," he said. "If they want this project to come about, then it will."
That would mean talking about it with neighbors, elected officials, economic development officials locally and in Topeka, potential private developers. "Anyone," Bennett said, "with the talents and assets who can promote this."
Bennett has been working on the concept for months. He talks effusively about what Lansing Landing might be.
Others talk glowingly of his work.
"I just think it's amazing we have a community volunteer making all of this effort to help Lansing in the future," said Shanae Randolph, the city's economic development/ convention and visitors bureau director. "He really, truly, has a vision of what Lansing can be or where Lansing can be in the future."
Bennett and a contingent have made trips to both Omaha and Sioux City to see first-hand their Missouri River developments. Omaha's Riverfront includes a riverwalk, marina, Lewis and Clark exhibits, a cruise boat, an upscale restaurant and public-use facilities. Sioux City's riverfront redevelopment includes a dance pavilion, trails, riverboat museum, an Iowa Welcome Center and a new $3.5 million Lewis and Clark Interpretive Center.
Both riverfronts draw visitors from near and far, and Bennett is certain the same could be happen here.
Marina operators in Omaha assured Bennett the demand for slips would make a marina here a success.
"We've been told that we cannot imagine the amount of money people will spend (for a slip on the river)," he said.
A marina here also could serve as an overnight stop for pleasure boats making a trip from Omaha to St. Louis. Once a boat docked, passengers could get make their way to the riverside restaurants, shops or museums to entertain themselves. All the while, they'd be pumping money into the local economy with purchases of everything from food to fuel.
Bennett said he has had positive reaction from military officials about a naval museum. Talk of the bridge, though, seems to really heighten Bennett's excitement.
The potential savings in time and fuel cost alone, he says, should be reason enough for the bridge to be built.
He points to the figure of 20,000 vehicles a day using Kansas Highway 7 in Lansing, many of which he says are on their way to either Kansas City, Mo., or Kansas City International Airport.
If even 8,000 of those vehicles could shave half an hour off their trip each day, "think of the savings," he said.
Such a bridge could help provide a "safety valve" for Lansing commuters on race weekends at the Kansas Speedway or concert nights at Verizon Amphitheater in Wyandotte County.
And even though the costs of bridges are high, Bennett says he thinks drivers would be willing to pay a toll for the convenience such a bridge would provide.
"People say you can't build a toll bridge across the Missouri River," he said, "but I say look at the history of the Leavenworth Bridge. It cost 20 cents to cross when it originally was built until it was paid off."
A more recent example, he said, exists near Osage Beach, Mo., where the Lake of the Ozarks Community Bridge, charging a $2.50 in-season toll, was opened in 1998. The bridge is credited with helping to spawn a housing boom in the area.
Bennett would like to see concrete steps taken to see his vision turn into a bona fide plan.
One needed step, he said, is to undertake a study to determine the potential usage, costs and comparative costs.
"That will solidify either the great potential of the project or that it's just not a feasible idea," he said. "I think I know how (such a study) will come out."
Another is to continue to build support and momentum. Bennett fully believes the plan will take care of itself. It may take 10 years, maybe 20, maybe longer, Bennett said, but it all depends whether enough people buy into the vision.
"This really isn't my plan," he said. "This belongs to the people in the area. If they think it's a good idea, it'll happen."