LHS

grad takes stage in "Carnival!"
Lansing — Recent Lansing High School graduate Brett Culbert will be performing in the musical, "Carnival!" at the Kansas City College Performance Center this weekend.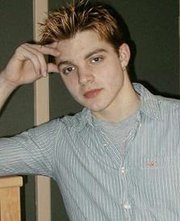 Culbert has one of the leading roles as Paul Berthalet, a puppeteer with an injured leg. His past performances include Danny Zuco in "Grease", "Tom Sawyer", "Cheaper by the Dozen", "A Funny Thing Happened on the Way to the Forum" and "Arsenic and Old Lace."
"Carnival!" tickets are available at the door at the time of the performance or at the Kansas City Community College, 7250 State Ave, in Kansas City, Kan. The show is at 8 p.m. Thursday, Friday and Saturday, and at 2 p.m. Sunday. Tickets are $6 for adults and $5 for students, senior citizens and children.