Lansing family joins forces in opening new car wash
Opening and operating a car wash, Carroll Bohannon has learned, is a bit more difficult than the average person might think.
"You don't just go out and collect quarters," said Bohannon, who along with his son, Scott Bohannon, and nephew, Dale Bohannon, opened the CDS Car Wash at 900 Eisenhower Road.
The modern car wash business is full of computer components. Chemicals for pre-treatments, washing and waxing are part of the equation. Hot water heaters have to be kept running. Credit card readers for customers' convenience are on order.
"It's different than what we thought going in," Carroll Bohannon said.
But CDS, with its seven bays, is a state-of-the-art car wash. Two bays offer automatic, drive-through services. They bays are designed to allow long-bed crew-cab pickups to be washed, something Bohannon said wasn't offered at any other car wash in the area. The other five bays are manual.
Put $1.50 in the slot at one of the manual bays, and you'll get enough water, soap and wax for a four-minute car wash. Each additional quarter will give you another 40 seconds of water.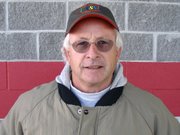 A drive through the automatic wash will cost $4, $5, $6 or $7, depending on the type of wash and coat of gloss you're seeking.
The Bohannons, lifelong residents of the Lansing area, have made their careers in the construction business. They still do. But now they've joined forces to open the car wash in what they believe will be a high-growth, high-traffic area.
"We're all from here, we were raised here," he said. "It's not some big outfit coming in and starting up a fancy car wash. It's us. We're just trying to make a living at it."