Feeding the system
How the city's youth program helped turn Lions into winners
John Warner couldn't help but smile as he sat in the stands on Nov.2 at Lansing High and watched the Lions topple De Soto, 10-7, in the bidistrict championship game.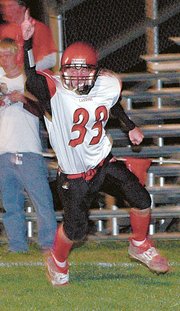 This day was eight years in the making.
After moving to Lansing in 1995, Warner was disappointed that the city didn't have a youth football program for his son to participate in, so he did something about it. The city started a league in 1997, and eight years later the first class of players from the league helped guide the LHS squad to its best finish in school history.
Warner couldn't help but think the instruction and experience those players received in the youth program had something to do with the Lions' success, and he's not the only one.
"I'm sure it has something to do with it," LHS coach Bill Pekarek said. "When I came here from Larned, the kids seemed to hit a little bit harder up here. I was impressed with that. There was a little more pop to their punch. They just hit better and we didn't have that kind of program where I was."
IN THE BEGINNING
Lansing had youth football before, but in the late 1970s or early 1980s the league disappeared.
When Warner, a career Army officer and former West Point football player, moved his family to Lansing from Germany in 1995, he wanted to find a football league for his son, Matt, to play in. No league existed in town, but in 1997 John Warner presented to the City Council a proposal suggesting Lansing bring back youth football. The council embraced Warner's proposal, and in the fall of 1997, youth football kicked off in Lansing with one flag football team and two tackle squads.
Given the program's infant status, teams were based out of Lawrence but games were played at the Basehor Field of Dreams as part of its league. The situation wasn't ideal just yet, but it was a step in the right direction.
CITY COMMITMENT
Starting a program from scratch was one thing. Guaranteeing its long-term success was another issue altogether. Warner said the Lansing City Council made it clear from the very beginning it was behind the program 100 percent and would take the necessary steps to ensure the program's longevity.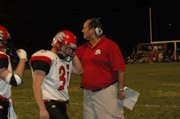 That planning included naming Warner the commissioner of the league, as well as the city purchasing plenty of football equipment to ensure that any interested children could participate, regardless of need.
"The biggest thing the city did to ensure the success of the program was purchase the football equipment (helmets, shoulder pads, jerseys, pads and pants)," Warner said. "Several other communities make the kids purchase all their own equipment and then pay an activity fee which includes medical insurance. That makes playing football cost prohibitive for some families."
Parks and Recreation Director Jason Crum said it was important to keep the league cost-effective in order to provide an opportunity for any interested child to play.
He said it also was important for games to be local, a move that was made permanent in 2002 when new league commissioner Rich O'Donnell proposed that city football leave the Basehor league and join the Northeast Kansas League. The move allowed games to be played in town at Lansing Middle School and made it easier for more parents to be involved with the teams as coaches and supporters.
CLEAR PROGRESS
Twelve of the original members of the city league - Matt Warner, Cody Mohan, Steve Lillard, Daniel Eyerly, Jeff Slater, Jordan Pratt, Brian Cordes, Taylor Teeters, Chris Clemmons, Logan Ryan, Joe Kohl and David Kern - were juniors on this year's Lansing High squad that went 8-3 and appeared in the regional playoffs for the first time.
All 12 played key roles for the Lions this year and Pekarek, the fourth-year LHS coach, said that class of juniors was a special group of football players. He said that group in particular brought a certain confidence level to his team that it hadn't had before, and their tradition of winning as kids may have had something to do with it.
"When a class comes along that has been successful all the way through, they certainly have a great deal of confidence and it rubs off on the classes above and below them a lot of times," he said. "From that aspect of it our junior class has been successful."
This year's juniors don't appear to be the end of the line, either. Two more city league squads won championships this year - an indication that the program is continuing to churn out skilled football players that could feed the Lansing High program for years to come.
That wouldn't come as a surprise to Rick Schneider, head coach of the third- and fourth-grade champion Lansing Red Devils, who said his 8-0 squad attended plenty of LHS games throughout the season to see the kids who started Lansing's winning tradition long ago.
"Winning is a confidence thing, and once you learn the fundamentals and win a little bit there becomes a mindset where you go out there and you expect to win," Schneider said. "That starts at a young age, and I think that's happening here."
Editor's note: John Warner contributed information to this story.