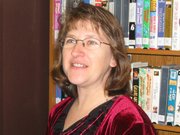 In the crowded rooms of Lansing Library, Darlene Dean is at home. She began as a volunteer and has been the full-time librarian for just more than two years. It is, she says, "the best job I've ever had." Why's that? Dean says it's getting to meet people, getting to do the programs, working with the patrons and library volunteers, and she "likes the books."
She got started when she learned of the effort to establish the library in 1998. Its cramped rooms in the Lansing Activity Center, 108 S. Second St., now house more than 27,000 items.
Does she hope to see the library in a home of its own? "We all are hoping," Dean said.
Name: Darlene Dean
Address: 100 S. Second St.
Occupation: librarian
Graduate of: Pleasant Ridge
Family: One daughter, Julie, senior at Lansing High School
How long have you lived in Lansing and what brought you here? Seven years; the schools.
What do you like most about Lansing? The people.
What do you do to relax? Scrapbooking, TV, reading
What's the best advice you ever received? On child rearing, my stepmother told me to never go back on what I tell my child.
What organizations or clubs do you belong to? Lions Club