Lions field a veteran squad
Six state qualifiers return to
LHS

wrestling
Monday afternoon signaled the first day of wrestling practice of the 2004-2005 season, and Lansing High coach Ron Averill already had his Lions working overtime on conditioning drills.
At the end of the 2 1/2-hour practice Averill barked at his squad as he grilled it through about 20 minutes of sprinting through the school's upper hallway. It was all part of preparing for what Averill believes could be a very good year for Lansing wrestling.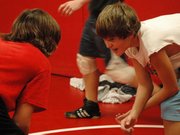 "We've stepped it up a little bit this year because in looking over the team we don't just have 30 bodies, we have 30 good wrestlers," Averill said. "We've been able to speed things up a little bit. We're stepping it up a notch.
"I always start the year going over technique and reviewing the basics, but we're about twice as far as we were last year in performance in practice."
Averill said he wasn't too surprised to find his squad in such good shape so early. Of his 30 wrestlers, six are returning state qualifiers. Another half-dozen saw plenty of varsity action last year.
Returners Kyle Buehler, Sean Flynn, Stewart Jones, Dennis Kessler and Ryan Civils all competed at the Class 4A state meet last year, while then-freshman Kyle Grape was the lone medalist, finishing fourth in the 130-pound class. All have plans of making more postseason noise this year, and that has Averill excited.
"We're committing to a long, hard, grueling season, but what makes it different is the fact we know the quality we have coming back," he said. "As a coach, not only do I know I have talent coming back, but I have talent that's excited about their performance. They're enthusiastic about the chance to get in here and mix it up. There's not a single one of them that's just looking to the first meet. They're already making goals for state performances, so anything along the way is gravy."
If the Lions make it back to state, however, the state meet will have a much different feel to it. They'll still be competing at the Kansas Coliseum in Wichita, but they'll be facing different foes because Lansing moved to Class 5A this year. That means traditional 5A powers such as Turner, Tecumseh Shawnee Heights and Stilwell Blue Valley now could be on the docket.
The rise in class will be a challenge, Averill admitted, but he said he doesn't expect it to change much for his squad. Lansing has competed against 5A and 6A schools on a regular basis for years, so he said his wrestlers should be prepared for anybody they might face.
"It's really not going to change the way we do business," Averill said.
If Averill has his way, business won't be the only thing staying the same. The results should be pretty consistent too, considering his roster includes just one senior, Jon Terrill, and 13 juniors.
"A lot of our juniors have been varsity since their freshman year, and then Steve Lillard and Lance Fink and Ryan Civils were varsity for us last year," he said. "So we have a pretty strong core of juniors that I and other teams are expecting to do well.
"Of our varsity squad last year we had two seniors and the rest were freshmen and sophomores and we finished as regional runner-up with a very strong season, so we're just expecting that to carry on into this year."