Sixth-grader Alex Sexton wasn't sure what to create when Andrea Wecker, Lansing Middle School art teacher, assigned him and classmates the task of showing what peace meant to them through a peace poster.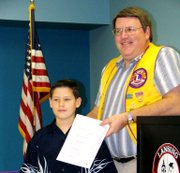 The posters, which would be entered in a contest sponsored by the Lansing Lions Club, became more than an art challenge for Sexton.
In addition to working on his poster in the class time that Wecker gave her students, Sexton used the assignment as an extracurricular history lesson. American wars from past and present inspired him to draw the poster that won him $100 and the opportunity to advance to the regional level of the poster contest. His poster features flags and a peace symbol.
"I thought about the war in Iraq and Afghanistan and the other countries we have fought with in the past," Sexton said.
Sexton enjoys both art and history, which made researching previous wars more interesting to him. He said he knew about some of the countries that the United States had fought against, but in his free time, he read encyclopedias to find out more about the wars he didn't know much about. He said he knew about some of the wars from what he had learned in classes and from what he had seen in the movies.
Although he doesn't know anyone personally fighting in the war, he said that he was affected by the war because he saw how it affected his friends who had loved ones serving overseas.
Lions Club members voted on the 25 entries and awarded the top three winners. The club gave $100 to Sexton, $50 to second-place artist Kirstin Woody and $25 to Elizabeth Lewis for the third-place entry.
Sexton said he was excited but surprised when he heard he had won the contest, the first art contest he has entered.
Sexton said he thought the flags he drew made his poster unique.
The Lions Peace Poster contest, in its 15th year, has drawn entries from more than two million children from more than 65 countries.
The club sent Sexton's poster to the regional level where it will compete against the winners of 57 other clubs in the Northeast Kansas region.