Homes get rehab help from city
Kenneth and Eleanor Chinn live in a quiet residential part of north Lansing. Right now it's getting cold. The leaves are falling; winter is coming. In years past, the Chinns have dealt with drafty windows and a leaking back porch, electrical wiring that wasn't up to code and a closet door that wouldn't close because part of the house needed shoring up.
This year is different.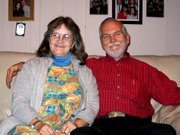 About two weeks ago construction was finished on the house - major rehabilitation, including new windows, a re-wired electrical system, foundation work and new gutters. And all at no cost to the city or the homeowners.
"We had a lot of windows that didn't have locks and were drafty," Eleanor Chinn said. "And the screens! For some of them to stay in place I would have to tape them if I wanted them down."
"They put in 22 inches of insulation," Kenneth Chinn added. "I'm sure it'll be much less drafty."
In early spring, the Chinns came home to find a notice on their door, letting them know they could apply to have work done on the house through a grant given to Lansing by the state of Kansas. They applied, qualified, and in September got word that work would begin in October. Their house was inspected and several areas were recommended for improvement, most of which were approved.
The work was paid for by the Small Cities Community Development Block Grant, which the city applied for last year. Lansing received the second-highest amount of money in Kansas with $310,000. The maximum amount is $400,000.
The money goes toward improving homes in the northeast section of Ward 1, which includes parts of Eisenhower Road and Connie, Carol and Eighth streets.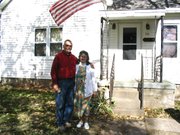 So far, the city has completed work on two homes, performed emergency services like a new furnace and electrical wiring for two more, and is in the process of working on five additional houses.
"It's made a change in a lot of lives in the ward," Councilman David Trinkle of Ward 1 said. "This first round sure has paid off - there are a lot of happy people over here."
The city has about $260,000 left of its 2004 grant and hopes to complete at least 15 homes. Though the list of applicants provides the city with more than enough homes to work on, Karen Logan, Lansing city clerk, said it's still possible for eligible homeowners to apply, in case some of the current applicants are ineligible.
The idea for the project began several years ago, when City Administrator Mike Smith and Trinkle were talking about ways to improve the city and help out those who were in financial difficulty. The section of Lansing chosen to receive grant money mostly is composed of those on fixed incomes or families just starting out, Smith said.
Lansing has applied for a grant again for next year and plans to target the area north of East Eisenhower Road, including Morgan, Miley and North Seventh streets.
The grant is intended for practical and not aesthetic purposes. Currently the city is working to make an elderly resident's home compliant with the Americans with Disabilities Act.
"It's not for beautification," Logan said. "There has to be some sort of health or safety reason, like a leaking roof or a furnace not working."
Each home can receive no more than $17,000 of construction and administration costs. In order to qualify for the project, residents in the area must fill out an initial application fee and provide documents like income tax returns, current wage statements and proof of property insurance.
Applicants must meet certain income requirements and qualify as low-to-moderate income, which means less than $38,300 for a single-income household, going up in increments to less than $72,250 for an eight-income household. All wage earners included are those older than 18.
Once selected, residents must be willing to live in the home for at least three years after the improvements.
"If we'd had to do it ourselves, we couldn't have gotten the windows, we couldn't have had the wiring redone," Eleanor Chinn said. "Goodness, it would have been astronomical. We were just really so pleased to be blessed like this."