Plans eye retail space for Lansing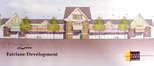 Two new developments in the works would add about 35,000 square feet of retail and office space to Lansing's main corridor.
Development Inc., the Leavenworth-based company operated by the Greenamyre family, is seeking approval for both projects - a planned development with about 30,000 square feet of space near the intersection of Main Street and Fairlane, and a 5,000-square-foot extension north of Daniels Bar-B-Q in the Main Street Center, 800 N. Main St.
The Fairlane development would house retail and professional offices. Plans filed with the Lansing Planning Commission show the development with separate buildings on three tracts, one south of the existing Dairy Queen at 402 N. Main St., another north of the Dairy Queen and the third at the northeast corner of Main and Fairlane.
Jeremy Greenamyre said both projects were in response to demand for office space in Lansing.
"The city has indicated to us there is a need for office and professional space," he said.
"That's our business - developing."
No tenants have been identified for either project, Greenamyre said.
Development Inc. wants to rezone property for the Fairlane Development from B-3, commercial business, to B-3-P, planned overlay development. John Jacobson, the city's community development director, said the rezoning would allow a more mixed use on the site.
The company also was seeking a positive recommendation from the Planning Commission for Fairlane Development's preliminary development plan.
Approval from the Planning Commission, which considered the proposal Wednesday night, would send the rezoning and preliminary development plan to the Lansing City Council for consideration later this year.
Tonight, the City Council is scheduled to consider the Main Street Center extension.
Greenamyre said the size and number of individual offices in each of the developments would depend on the needs of the initial tenants.
"We've not started marketing them yet," Greenamyre said. "We're probably looking to break ground in the spring, and we're probably a year from having anything that's 'tenantable.'"
The Development Inc. plans closely follow approval from both the Planning Commission and City Council for the Old Town Development, a four- to five-unit retail/office project at 210 N. Main St. Lansing resident Danny Asher has said he would like to break ground on the development in early 2005.