Fire destroys house
S.E.

of Lansing
Lansing — A rural Lansing man whose garage caught fire Thursday night said his home and everything in it was "a total loss."
Jay Carter, a Lansing chiropractor, was notified about the fire in a phone call on his way home from a meeting in Kansas City. The caller was a friend who had heard a house on his Carter's street had caught fire.
Carter arrived at a roadblock set up after firefighters had begun fighting the fire. Police at the roadblock verified that it was Carter's home at 25076 Wolcott Road, just southeast of Lansing, where Leavenworth County District 1 firefighters were fighting the blaze.
Fire Chief Rick Huhn said he suspected the fire began in a breaker box in the metal garage. It spread to the house, destroying the sunroom, living room and most of the kitchen. Huhn said the front of the house and the garage were totally engulfed in fire when he arrived.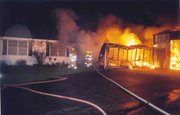 He said the fire, which was reported by a neighbor at 8:01 p.m. Thursday, was contained in the house within 20 minutes, but the garage fire took an additional 40 minutes to extinguish.
Carter said that among the fire, smoke and water damage, the house was destroyed.
Friday, Carter said he didn't know what he would do about the house or where he would stay while he sorted out his options.
"I've had about 20 friends call already offering a room," he said. "This is a good town, I've got a lot of good friends."
Despite the loss, Carter said it could have been worse.
"No one was home, no one was hurt," he said.
Carter said he was also glad none of the firefighters were hurt.
Carter and several dogs were the only residents of
the home. The dogs were not hurt.
Huhn estimated damage to the house and garage around $200,000.