LHS

girls ready for breakthrough season
If you judge the potential of Lansing High School's girls basketball team simply by looking at its 7-14 record last year, it might be easy for lots of teams to write off the Lions before the season starts.
Not so fast.
These players know better, and they have a little secret: They're a sleeping volcano ready to erupt.
Sure, 7-14 isn't an impressive mark, but consider the fact that eight of those losses were close - many came down to missed free throws and layups - and the Lions were close to being an above-.500 club. Much of the talent from that squad is back, including three everyday starters and five more players with extensive varsity experience. That means the Lions have some lofty expectations for themselves.
"We want to make it to state," said senior Jessica Waters, one of five seniors on the LHS roster. "We at least want to get past substate; not win a championship, but we want to make it to state and experience all that it has to offer to us. I think we can make it. I really do."
That goal may be realistic by season's end, but it's going to take a lot of work to make that dream a reality. Hard work is something the Lions are becoming accustomed to under first-year coach Keith Andrews.
Andrews wants Lansing to be an up-tempo club that crashes the boards and plays stifling defense. That playing style only works, though, if players are in better shape than their opponents and willing to out-work them. Andrews has been running his players a lot and preaching work ethic to make his squad ready to execute that style of play.
"A little work never hurt anybody," Andrews said. "A lot of the girls work pretty hard. There's a couple of them that need to work a little harder, but they're getting there.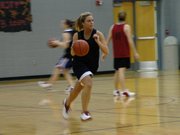 "We want to be an up-tempo team. We want to run, and you can't run if you're not in shape. You can't run if you don't rebound. We want to play defense, and we want to move. We want to make it fun to watch."
The Lions were fun to watch in plenty of games last, but the losses were hard to take.
"We lost a lot of games that we should have won," senior forward Emily Goodlin said. "We're looking to win those games this year."
Many of the LHS players indicated that team chemistry was a problem that contributed to many of the losses last year, but all agree that chemistry has not been an issue at all this season. From the seniors to the freshmen, Andrews said his players are a close bunch.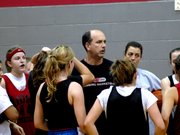 "They all get along good," he said. "There's no real junior-senior animosity or class animosity. They're all good kids and that's the neat thing about it."
Lansing's seniors - Waters, Goodlin, Monique Richardson, Kendra Sickinger and Melissa Casto - have been playing together since elementary school, and Andrews said he is counting on them to take the brunt of leadership responsibilities from the beginning.
He also expects many of the underclassmen to play vital roles in the squad's success. Juniors Rachel Darrow and Nichole Twitchell will be in the running for starting spots, as will sophomores Rianne Deere and Elizabeth Cristiano. Three freshmen - Morgan Chiles, Amanda Darrow and Katie Nietzke - also could see significant minutes if they continue to show progress.
"Hopefully we'll be 13 deep by the first tournament," Andrews said. "That would be great."
Having 13 able bodies would be more than ideal for the Lions, but Andrews admitted depth isn't his primary concern. Developing a winning mentality is his top priority. From the first day of practice he has talked with his players about winning, he's had a daily quote about winning, and he has maintained high expectations that he said his players have bought into.
"They had a good group last year. They just didn't win some close games," he said. "I think they want to win, and that's the biggest thing. They are eager about it. We're a happy group and we want to be happy and win now."