Holiday shipping deadline nears
For anyone who wants to send holiday packages to troops overseas, it's not too late - not yet anyway.
The rush is under way, however, so the window of guaranteed delivery time is closing rapidly. As a result, employees of the Lansing Post Office, 617 Holiday Plaza, have one message to local residents: Mail early.
The local office has been filling about two six-foot tall carts per day with packages bound for Iraq and Afghanistan, but post office clerk Robert Nye said that number will jump dramatically after Thanksgiv-ing.
"We'll fill up six or eight of them on our busy days," he said. "I don't know how many packages it is, but it's a lot."
It will be enough to slow things down dramatically, too. That means longer lines will greet customers as Christmas approaches.
"There would never be a time where we don't get (the mail) out that day," Nye said, "but it just slows things down and increases the wait time for a lot of other people. There can only be at the most two of us (waiting on people). We don't have room to squeeze a third person in here."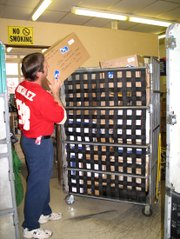 Nye said there's an easy way to avoid the long lines and ensure your package makes it overseas on time. Send it now.
"The main thing is mail early," he said. "If they wait too long because, even though for priority we say it's two to three days, the week before Christmas it's not going to happen. We're too overloaded and it's going to take longer."
Lansing isn't the only place where there is a heavy flow of packages going overseas for the holidays. Everywhere from Leavenworth to Kansas City, post offices and shipping services are bracing for the holiday rush.
"If people are waiting until now to send it, I'd say send it as soon as possible; send it tomorrow," said Curtis Cooper, owner of two UPS Stores in Shawnee.
The U.S. Postal Service lists several cut-off dates for sending packages via different services.
Two services are available through the Army if space is available on shipment planes. Packages less than 15 pounds and 60 inches in length and width combined may be sent via Space Available Mail until Saturday. Packages not exceeding 30 pounds in weight or 60 inches in length and width combined may be sent by Parcel Airlift Mail before Dec. 4.
Other packages may be sent by Priority Mail and first-class mail for letters and cards by Dec. 6 or Dec. 11 depending on the Army or Fleet Post Office ZIP codes.
Prices will vary for each service. For example, using a general Army ZIP code, a five-pound package sent to Iraq would cost $8.58 via Space Available Mail or Parcel Airlift Mail and $9.85 for Priority Mail.
Those sending packages also should have a detailed list of the package's contents, as each package has to have a customs declaration with it.
Though the U.S. Postal Service ultimately handles all packages for troops sent to the military postal service, other package delivery services can handle postal packages, as well.
Reporter Caroline Boyer
contributed to this report.