Keeping the children safe
Crossing guard Jamie Bohnsack loves to get involved in the community and help kids out. The Leavenworth resident works just next to Lansing Elementary School and knows most of the schoolchildren by sight. She's also been a youth pastor at the Freedom in Christ Fellowship for the past six years.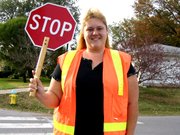 Bohnsack says she loves working as a crossing guard because she loves kids.
"Everyone knows me and waves," she said. When she missed a few months of work and then returned, people told her she had been missed.
Bohnsack has worked as a crossing guard for three years at the same intersection: Nina and South Second streets. She works three hours daily, an hour and a half in the morning and again in the afternoon. Bohnsack says the best part of the job is the kids and the parents.
Name: Jamie Bohnsack
Address: 1005 Olive, Leavenworth
Occupation: Crossing guard, youth pastor
Graduate of: Project Stay in Leavenworth
Family: Mother, grandmother, younger siblings Kayla and Christopher
How long have you lived in the area: 26 years
What do you like most about Lansing and what brought you here: It's just a really nice place to work. Everyone is courteous. Kids respect me, they don't try to run me over. It's family-oriented, it's peaceful. The people are wonderful.
What do you do to relax: I listen to all kinds of music. I go cosmic bowling, take walks, sit outside.
What would surprise people about you: Sometimes I'm crazy I like to have a good time. I like to have fun.
What's the best advice you've ever received: Stay clean, stay out of trouble, be the best person you can be, be the best friend you can be.
What organizations or clubs do you belong to: Freedom in Christ Fellowship and volunteer for the Salvation Army and St. Mary's. This holiday season, with her church youth group, she will ring bells for the Salvation Army at Dillon's.