Lack of depth will challenge boys
Say this much for the Lansing High boys' basketball players: They're definitely not lacking in confidence.
"I expect to be league champions," said junior David Kern. "This group we've got, these juniors, we've been playing together since second grade so we know each other pretty well."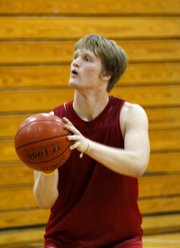 Confidence: check.
Now depth on the other hand :
LHS coach Don Allen admitted talk about winning a Kaw Valley League championship might be just a bit premature considering the Lions have no seniors on the roster, just two returning starters and five players with varsity experience back from last year's 12-9 squad.
Still, if his players want to be league champions, Allen said he's all for it.
"If they feel pretty comfortable about competing for the league title, then we'll let 'em think it for a while and that's the way we'll work," he said. "We're gonna work hard regardless."
It's going to take some time to find out who will be the team's sixth, seventh and eighth man this year with only five proven players returning.
Kern (4 points, 4 rebounds) and junior Jeff Slater (14 points, 5 rebounds) are the only returning starters, and juniors Matt Warner, Chris Wagner and Cody Mohan are the only other returners with extensive varsity experience.
Beyond that, the picture becomes pretty blurry.
"Our biggest issue this year is obviously going to be depth," Allen said. "We've got a pretty good core that have been on the floor of a varsity basketball game, but we've got to find some guys who can come in and help us in the six, seven and eight spots. If that happens that's going to be fantastic, but it takes a while sometimes."
Allen said Ryan Robbins, Jeff Jackson and Austin Reynolds have been impressive early in practice and could give Lansing some added depth in the post, while Javen Kelly could provide solid support on the perimeter.
While depth is the primary obstacle LHS must overcome, another is the lack of senior leadership that comes with having no seniors on the roster. As a result, that role has fallen to the shoulders of Kern and Slater. Kern said he's prepared for the additional responsibility and is ready to lead the program for the next two years.
"It's weird to have senior leadership when you're a junior," he said, "but it'll just prepare us more for next year. I expect a lot out of us this year as it is, but we should dominate next year."
It won't take long for this year's Lions to get an idea of just how good they can be this season. They open the season Dec. 9 at the Bonner Springs Tournament against a tough Harrisonville (Mo.) team that features 6-foot-7 senior forward Drew Gray who averaged 20 points and 11 rebounds per game last year.
Other teams LHS could meet in the Bonner tournament are Bonner, Topeka Seaman, Tecumseh Shawnee Heights, Savannah, Hogan Prep (20-7 last year), and Atchison (fourth in Class 5A last year). That said, Allen believes he'll have a good idea where his team is in its progress after the opening weekend.
"It's going to be real competitive and it'll be a good test for us," Allen said. "We'll find out where we are at that Bonner tournament and go from there. We've got a good bunch. We're solid in the core but we've gotta find some help. Hopefully some of these guys are gonna be able to help us."