LMS

wrestlers shine at home tournament
Photo Gallery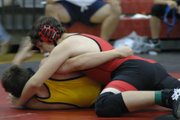 Middle School home wrestling meet
About 140 of the top middle school wrestlers in the area were on hand Saturday at Lansing Middle School to square off in the Lions' only home meet of the season.
Lansing wrestling coach Ron Averill has a time-tested theory that it takes about three weeks of competition before his middle school wrestlers really find their groove.
Therefore, it should come as no surprise that the third week is when Averill likes to schedule his squad's first home tournament. Averill believes it's the perfect time for his squad to showcase its skills for friends and family on the home mats.
That was the case Nov. 20 when the Lions played host to a nine-team, all-day tournament at the Lansing Middle School gymnasium.
Fifteen Lansing wrestlers competed in the tournament, and all held their own just fine according to Averill. Four Lions - Cullen Demarest, Gage Thackston, Tyle Bodde and Andrew Shafer - rolled through their matches an unblemished 4-0. Five more LMS wrestlers - Jacob Hansen, Daniel Matthews, Wesley Appleget, Josh Martin and Sean Gowdy - posted 3-1 records.
Nine Lions were medalists for finishing in the top three in their weight class. Even those whose final results did not appear quite so impressive still made vast improvements during the last three weeks, Averill said.
Middle School girls continue to sparkle
The eighth-grade girls basketball team defeated Lexington Trails, 41-10, last Thursday and improved to 9-0 on the season. Katie Cristiano led the way with seven points and nine rebounds and Natalie Loreti had 13 points and five assists. Brittney Lang chipped in six points, four steals and four assists, and Keasla Hundley added seven points and five rebounds.
The seventh-grade girls remained perfect, too, as Rachel Milnark and Katelyn Griffen led the Lions past Lexington Trails to improve to 9-0.