Parade to precede tree lighting
In a season typically devoted to extolling St. Nicholas, Lansing schoolchildren also will pay tribute to Nicholas' fellow Germanic figure St. Martin in the second annual Children Light the Way parade.
The parade, which begins at 5:45 p.m. Sunday, Dec. 5, will precede the Mayor's Christmas Tree Lighting, which is slated for 6 p.m.
Parade creator Vicki Sperl said the parade was inspired by time she spent in Germany.
"We had this St. Martin's Day where kids got together and made little lanterns," Sperl said. "The kids would get together the German kids would come get our kids. They would make lanterns and at nighttime they would march through the town with them, and when they get up to the town hall they would light big lights above the City Hall building. The whole community participated. It was pretty neat."
All Lansing children up to sixth grade are welcome to participate.
Those interested are asked to meet at the Lansing High School at 4 p.m. on Dec. 5, where they will rotate between making lanterns, visiting with Santa Claus and watching a magician hired by the Lions Club.
Last year about 50 children participated, Sperl said, and she expects to have more this year.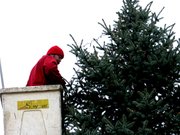 The parade participants will march with lanterns from Lansing High School to City Hall.
The large spruce on City Hall grounds serves as the city's Christmas tree and is decorated by city employees. The event is organized by City Clerk Karen Logan, who said the event is planned for outdoors, but may be moved indoors to the community center if the weather is bad.
The annual tree lighting opens with Mayor Kenneth Bernard lighting the tree and leading spectators in holiday carols. The event also includes performances by the Lansing High School Sound Spectrum and the area group LePetit Ensemble of Recorders and a flag ceremony conducted by the Lansing Cub Scouts. Lansing Girl Scouts will assist in providing hot chocolate, coffee and cookies.
Logan said 200-250 residents usually participate. The ceremony is co-hosted by Lansing PRIDE. Invited guests include the state representatives, senators, the Fort Leavenworth garrison commander, Leavenworth County commissioners, mayors from all the cities in county, the warden from the prison, and school board representatives. Logan said the city was in the process of sending out invitations.