Senior strike
For 25 years, Skyway Lanes has offered a pin-crushing good time for seniors
When it comes to business, Millie Keach usually doesn't pick favorites, but sometimes she just can't help herself.
Business at Leavenworth's Skyway Lanes been far too good on Tuesday and Friday afternoons when the senior leagues compete for her not to love them.
"I know I rave about them a lot," Keach said, "but you know what, they really fill up this house two days every week and you can't do that with any other group of people. They're great."
Sure enough, last Friday was like any other Friday. Keach's lanes were packed with bowlers as senior league action kicked into high gear. The crash of pins echoed throughout the building, drowned out only by the constant chatter of friends enjoying an afternoon together at the alley.
In 25 years of seniors bowling at Skyway Lanes, some things never change.
Marv and Dolores McCurdy, Mary Jackson and Margaret Swift are the lone Lansing residents in the league, but they've been rolling for years.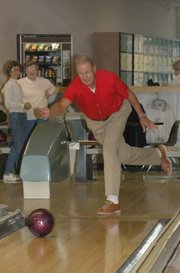 "We've been coming ever since we came back to the area after I was in the Army," said Marv McCurdy, who has bowled in the senior league with his wife for almost 25 years.
The McCurdys and others refuse to miss a Tuesday or Friday at the alley for a good reason. They don't want to miss the chance to spend quality time with their friends company.
"It's the people. It really is," said Dolores McCurdy, who helped Keach run the youth bowling league for 15 years. "It's just family. It's a wonderful, wonderful group of people. A lot of people wouldn't think about coming out on a Friday afternoon, but it's the people. It's mainly the people that we come out for."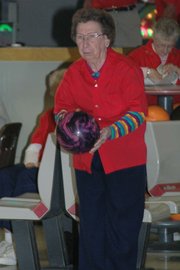 The senior bowlers are able to compete during the afternoons because all are retired or don't work during the week. It's a group that hates missing a single week of bowling. In all, 64 bowlers compete in the senior league, and it's tough to keep them away no matter the weather or the holiday. Only health trouble can convince them to stay home.
"We've found out we'd better not close the alley for the holidays," Keach said, "and you'd better not cancel because of snow. These seniors will find a way to be here. Other groups might not, but they do."
Most of the bowlers are above the age of 70, but many of them are just starting to find their groove at the alley. Two record boards hang on the walls at Skyway Lanes. One is for everyday bowlers and includes the names of all bowlers who have scored a perfect 300 game. The other board is for the senior league, and it is gradually filling with names of high scorers.
None of the Lansing bowlers has yet made the 300 board at Skyway Lanes, but they don't see it as an insurmountable obstacle.
"We haven't reached that goal yet," Dolores McCurdy said.