Early-season storm closes schools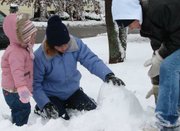 Lansing — Schoolchildren in Lansing got to start Thanksgiving vacation a day early today after Mother Nature dropped about 4 inches of snow on the city.
Officials called off school about 4:30 a.m. today because of the accumulation.
A winter snow advisory posted by the National Weather Service for the area expired about 9 a.m. today, but forecasters warned of the possibility of light snow and or rain and breezy north winds the rest of the morning.
The forecast calls for temperatures to drop to 21 overnight, so the possibility of slick streets will remain throughout the day and night.