For more than 100 Lansing senior citizens, the Thanksgiving feast came a bit early this year.
Hosted by the Lansing High School Leadership Council, the senior citizens were served a full-course holiday meal last Thursday in the LHS gymnasium.
Micah White, LHS senior class president and a leading organizer of the event, said about 125 senior citizens attended.
More than 40 students signed up to volunteer to work the luncheon in addition to the school's Leadership Council. The council took over the event in 1996, but cook Mary Wendel said the luncheon has been a tradition for at least 15 years.
Traditional Thanksgiving fare dominated the menu: turkey, mashed potatoes and gravy, green beans, rolls and pumpkin pie. Students served the hot dishes and made sure their guests didn't leave hungry.
Rose Black, a 60-year Lansing resident, said she'd been coming ever since the event had started. It was Virginia White's first time, and she said she had been thinking about attending for some time but this year, two of her friends, she laughed, "dragged me along."
Photo Gallery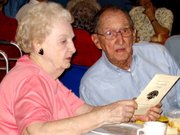 Thanksgiving at Lansing Schools
Lansing High School Leadership Council hosted a senior citizens Thanksgiving luncheon while fourth-graders at Lansing Intermediate enjoyed the third annual "turkey bowling."
Other schools also have been busy with the Thanksgiving theme.
Last week at Lansing Intermediate School, Carol Caplinger's fourth-graders found a lighter side to the season when they bowled frozen chickens down lanes made from their overturned desks, knocking down empty cranberry sauce and pumpkin pie-filling cans.
Caplinger's classes have been "turkey bowling" for three years, though she hasn't used turkeys since the first year. Turkeys, she found out, were too big for the children. Instead she buys three turkeys and gives them to the three highest-scoring bowlers.
"It's just a fun activity. Sometimes you need to relax and do something totally different," Caplinger said.
She got the idea from her brother in Ohio, who watched a Cleveland grocery store's televised turkey bowling. He suggested she introduce it in her classroom and donated the turkeys the first year. Since then the day has become a fun celebration of Thanksgiving and an opportunity for the children to exercise their math skills when they add up the scores.
First-graders at Lansing Elementary enjoyed an early Thanksgiving feast Tuesday afternoon at the Sally Zoll building. The feasters were the combined classes of teachers Cheryl Lents and Linda Rumney.